The purchase of secondary homes with increased climate risk rose over 40% across flood risk, storm risk, and high heat risk in 2020 and 2021, compared to 2018 and 2019, according to a recent ClimateCheck study by Redfin.
While this does echo an overall increase in second home purchases during the pandemic, with a 37% increase in the same time frame, homes that fell under elevated climate-related risks saw even larger purchase rates compared to pre-pandemic levels.
These include a 45% increase in secondary homes at high flood risk, a 40% increase for those at high storm risk, and a 39% for high heat risk.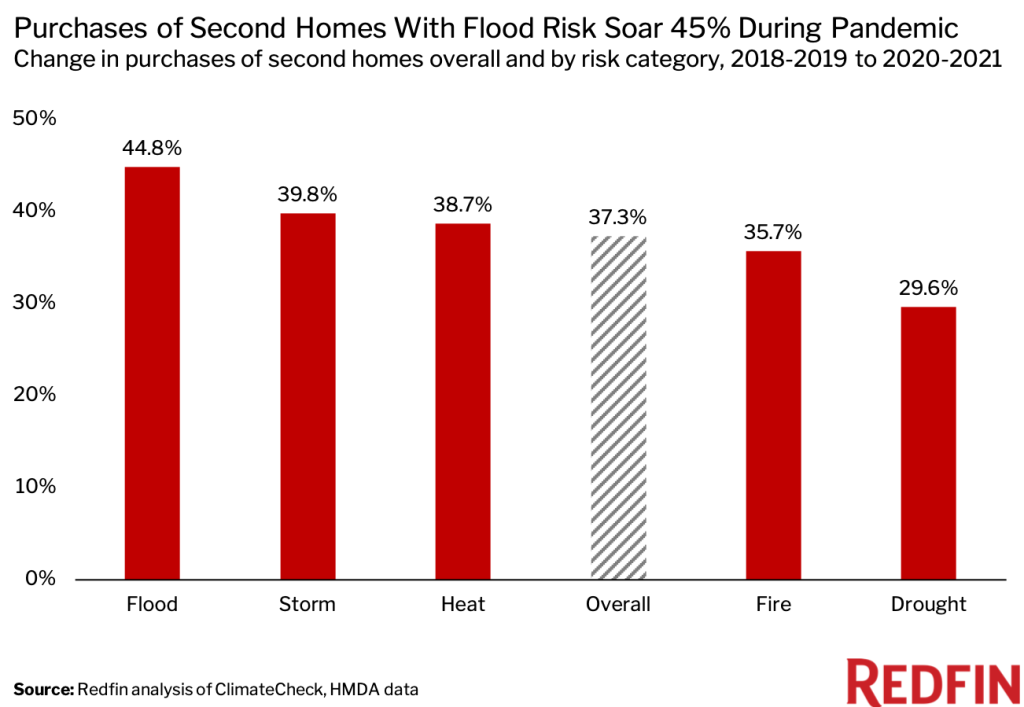 While rising mortgage rates and inflation has slowed the demand. for housing and slowly begun to decrease home prices across the country, this data shows that many Americans "now own at-risk second homes, which has implications for the future."
"The threat of climate change isn't the top concern for a lot of homebuyers, which means they often prioritize factors like warm weather and proximity to the beach over avoiding natural-disaster risk. Second-home owners, in particular, have another place to live if disaster strikes—another reason climate danger may not feel like a pressing issue," stated Redfin Senior Economist Sheharyar Bokhari, in a release.
"But house hunters should be aware that purchasing in a disaster-prone area not only puts them and their home at risk, but their finances as well. Home values in climate-endangered places may fall in the coming years as consumers learn more about the risks to properties in these areas," Bokhari said.
The Redfin report also found that, due in part to large migration into states like Florida and Arizona, which face significant heat and/or storm risk, more people have been moving into than out of counties with the largest share of homes at risk for natural disaster.
It says that nearly all (94%) of all second homes purchased in the past two years face high heat risk, with storm risk facing 78% of those homes. Other risks include high flood risk (26%), high fire risk (23%) and high drought risk (21%).
In other recent proptech news, June rate hikes pushed rental demand and multifamily building tech. PLACE also announced new CTO and CMO hires.