CoFi, a construction financing startup that helps builders access loans and pay workers quickly, announced raising a $7 million seed round led by Blackhorn Ventures, Metaprop and Tenacity, according to a press release shared with FinLedger.
The company says it will use the funding to continue improving its payment technology, to perfect the origination and underwriting piece of its lending marketplace, and to help builders address the current housing supply crisis.
Through its software, CoFi simplifies the long, complicated process of construction payments, which typically includes handling spreadsheets, attaching invoices, contacting inspectors, issuing payments and more. Instead of these time-consuming manual processes, the company enables builders to digitally collect invoices, handle inspections, handle lien waiver releases and pay workers via ACH transfer.
By using ACH transfer, the company is able to cut out the need to write checks, and reduces the time it takes to pay subcontractors from the industry-standard 74 days to just four. CoFi says this helps builders retain workers and compete for skilled laborers and subcontractors, which is critical given the labor and material shortages currently facing the country.
"If you can pay those people and secure those payments quickly, how much more likely are you to get a subcontractor on your job site? CoFi is a solution that contractors are currently using to tackle those challenges of labor shortages and material shortages," Mike Lacey, co-founder of CoFi, told FinLedger.
This is even more important considering the target scope of the company, which it says includes single-family residential and smaller multifamily projects, with loan sizes between $250,000 to $50 million. This means that it is more interested in helping smaller to medium builders, who oftentimes need more help attracting and retaining talent compared to national builders.
In addition to expediting payments through its digital lending platform, CoFi also provides a construction loan marketplace, which includes hand-picked lenders and a strategically grown lender pool, to ensure the best rates and terms for construction loans.
The company says it is the only construction loan marketplace with lenders specializing in acquisition, development and vertical construction, according to the release.
While bringing lenders and builders together in the marketplace is important in its own right, CoFi says that the data generated in this process actively improves the platform and helps improve the quality of the loans.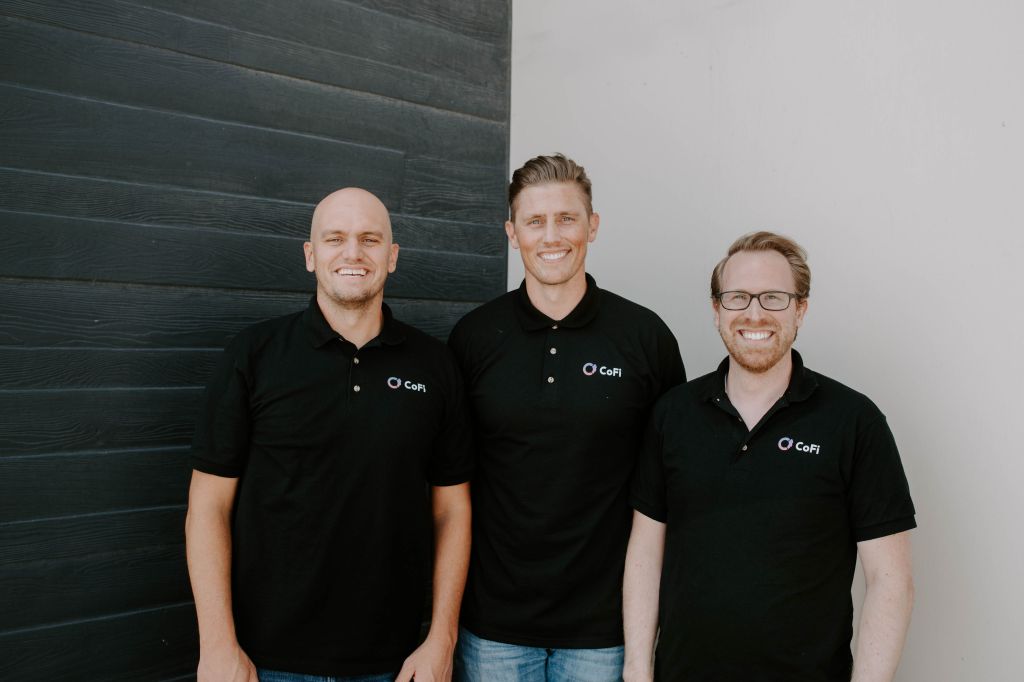 Cam Harris, another of CoFi's cofounders, says that CoFi adds value to its partner lenders by not only "de-risking" payments on the back end but also using its technology to reduce work for them on the front end.
He says the company does this by combining its in-house credit team and its data to provide fully underwritten loans to partners, in turn expediting decision making and speeding up the overall process.
"We've processed nearly $4 billion now, in construction loans that have gone through our platform. There's a tremendous amount of data that comes with that. So when we launched this CoFi marketplace with our lenders, one of the big pieces we've focused on is the origination portion and underwriting. We're trying to use all that data that we have to better facilitate underwriting of these construction loans," said CoFi's other cofounder, Cam Harris, in the interview with FinLedger.
"We have visibility into specific regions, jobs performed in those regions, timelines and costs. The data is impactful, and it's continually updated as we have more and more jobs flow through the system," Harris said.
Looking at the industry in general, construction technology has seen a rise in activity alongside the overarching proptech market. Last year, construction tech funding reached $2.1 billion, a 100% increase over 2020, showcasing the increased importance being placed on building technology and the demand for homes.
"I think the tide is turning quite a bit, and you can see it in new startup companies like CoFi as well as the interest now that VCs are placing on this industry. It's a massive, massive industry, with $1.4 trillion invested in the U.S. alone each year," Harris said, adding that despite the large capital and funding, construction is still very inefficient compared to other industries.
"We're the second least-efficient industry in the world, second only to agriculture, so there's massive opportunity there for innovation and technology," he said.
The cofounders said that aside from the money itself, the investors brought in during the round will play a crucial role in the future success of the company.
"We were lucky to have one of our existing investors, Blackhorn Ventures out of Colorado, that wanted to come in and lead this round, and having that construction tech-focused investor was super important. But then, because we are in this kind of fintech-construction tech mix, we brought in Ben Narasin at Tenacity, who was initially over at NEA (New Enterprise Associates) on the fintech side and is just a great fintech mind," Harris said.
"Then we brought in Metaprop, who is in the proptech and real estate space, so we got a great group of investors to get together and kind of rally behind us. It's really been useful to drive growth in the teams that we have already, so that's sales, marketing, and we're always focusing on our products with more engineers. We've brought in a really good amount of key people, that we want to keep adding to with this round," he added.
In other recent proptech news, Toronto-based Key raised an $11 million seed round to expand its co-ownership platform across North America. Pi Labs also completed an oversubscribed $90 million proptech fund to help find the next proptech unicorn.