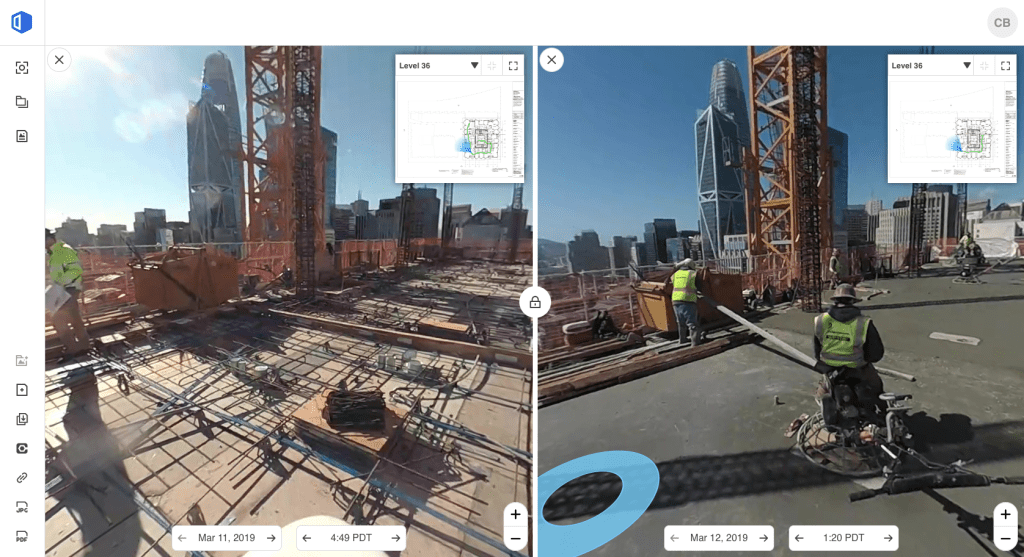 OpenSpace, a startup that develops technology for the construction industry, raised $102 million in a new Series D funding round led by Penny Pritzker's PSP Growth. According to the proptech, Tuesday's funding gives the company a valuation of $902 million.
Other participating investors included BlackRock, Alkeon Capital Management, Menlo Ventures and a unit of commercial real estate brokerage Jones Lang LaSalle.
OpenSpace's tech stacks enables builders to easily capture a visual record of a job site, simplifying an ordinarily painstaking process with 360 degree construction photos. The proprietary tech is coined the "Vision Engine." Users attach a camera to their hard hats and images are then uploaded and organized with AI to create a complete picture of the project. The images are stored in the cloud and can be consulted during all phases of construction.
Because it uses machine learning, the Vision Engine is always getting smarter – the more you walk, the faster and more accurate it gets. It also utilizes Simultaneous Location and Mapping (SLAM), a technique to construct a map of an unknown environment while simultaneously moving through it.
According to the proptech, the technology behind OpenSpace – which is similar to the perception and navigation systems in self-driving cars – is the culmination of nearly two decades of combined research and development, which started with the founders' work at MIT.
The technology can be a key solution at a time when needs for things like affordable housing and green infrastructure are increasing, but the costs are enormous and a shortage of labor is chronic, Jeevan Kalanithi, OpenSpace's chief executive officer told Bloomberg.
"Builders have an incredibly important, incredibly difficult job – our goal is to make their lives easier and more efficient. We do so with technology that augments and supports their work," Kalanithi said.
This latest funding brings the total raised by OpenSpace in just the past year to $157M, and will be used to continue scaling the business and to develop additional AI-powered technologies.
OpenSpace also revealed in a funding release that its revenues have doubled or tripled each year since its founding in 2017. Customers have used OpenSpace on over 10,000 jobsites to-date, with over 500 started in the last month alone.
Tuesday's funding arrived just under a year after OpenSpace's $55 million Series C led by Alkeon in April. At the time of its last funding, the proptech was already on its uphill swing, revealing its customer base increased 150% in 2020, while usage was up 300%, suggesting that existing customers were also capturing more snapshots of job sites.
In August the company released a "Basic" version of its AI-powered analytics tool completely free to qualified builders in the U.S. for its video capture solution.
"It's a tremendous accomplishment to build a 'must-have' platform within an industry, especially one as massive as the global construction industry," said Dave Yarnold, CEO Partner with Harmonic Growth Partners, and former CEO of ServiceMax and VP Global Sales at SAP SuccessFactors.