Atom Finance, a New York-based market intelligence platform, is partnering with Brazilian digital bank Banco Inter.
With Atom Finance, Banco Inter's customers will have access to a comprehensive suite of investment research and portfolio analysis tools that are comparable to products such as the Bloomberg Terminal, but at a more affordable price point. The company has so far raised $20 million, and its capabilities include financial modeling, portfolio monitoring, benchmarking, industry news analysis and discussion forums.
In the U.S., Atom Finance offers a free service and a paid subscription for $9.99 per month.
The tie-up, which puts Atom Finance in front of Banco Inter's 10 million customers, is part of a bigger strategy to enhance global reach, including in key emerging markets.
"There's a handful of international markets that we're super interested in, and that includes Brazil, India, Western Europe and Canada," said Eric Shoykhet, founder and CEO of Atom Finance. "From an emerging markets standpoint, Brazil and India are probably the two most attractive markets, and the reason for that is that they both have large populations and pretty low penetration currently in terms of the number of retail investors."
Atom Finance's rollout with Banco Inter will take place later this month. Shoykhet emphasized that while Atom Finance doesn't offer investment advice, it aims to provide investors with the context to make better decisions. Banco Inter will be embedding Atom Finance's tools into its banking platform, offering customers the product on a per-month subscription basis. The companies will have a revenue share partnership from the program.
Shoykhet said the company's typical U.S. customer holds $30,000 to $50,000 or more in their portfolio and has some experience investing. He wouldn't comment on customer numbers, but said its number of paying subscribers has grown three-fold since the beginning of the year.
A foothold in Brazil
Atom Finance sees Brazil as an opportunity, as consumers there put more money into the stock market. In 2020, the Brazilian central bank's benchmark short-term rate, the selic, was 2% compared to 14% in 2016. As a result, a consumer base traditionally reliant on government bonds began investing in equities for better returns.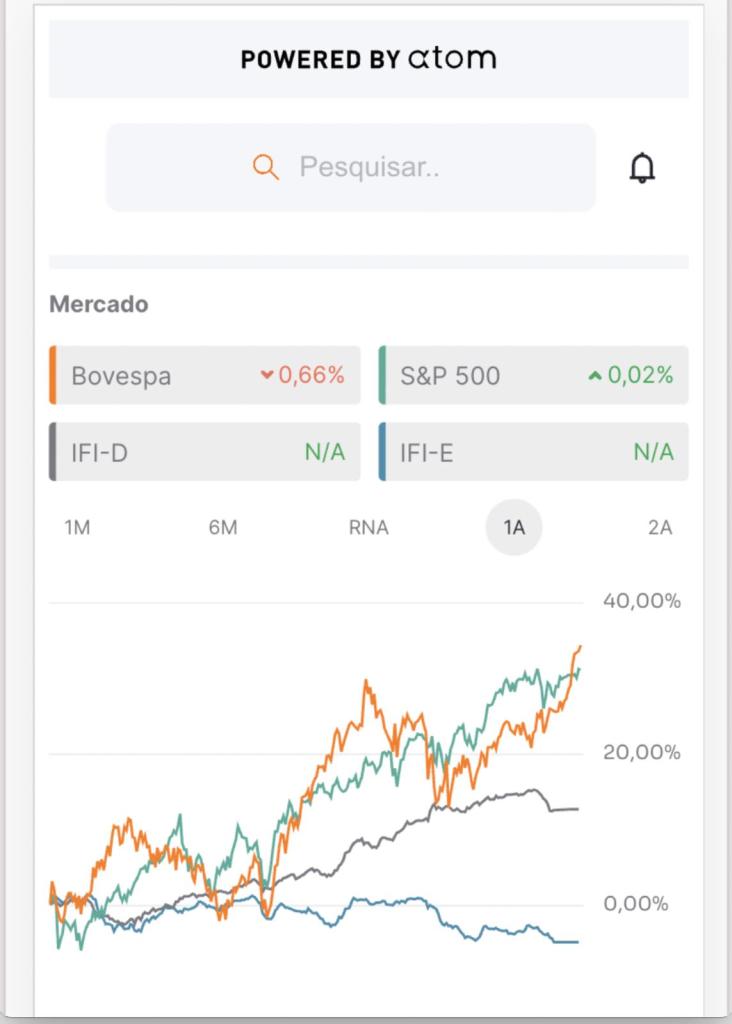 "In the past, Brazil offered high interest rates to local savers. Most of them just bought government bonds to receive solid returns," Claus Born, an institutional portfolio manager and emerging markets investment analyst at Franklin Templeton, wrote in a recent paper. "In this low-yield environment, many of them have started turning to the equity market."
The trend can be seen in the growth of the number of trading accounts: From 2008 to 2017, there were around 600,000 trading accounts, but by 2020, that number grew to 3 million. The trend probably hasn't reached its peak, according to Born, a sentiment shared by Shoykhet.
"Our view is that Brazil is about to go through what happened in the U.S., starting in probably the discount brokerage era, where you had a dramatic boom in retail investor participation," Shoykhet said.
Given the rush of new retail investors in Brazil, Shoykhet said the company will aim for a broad customer base.
"The initial audience [in the U.S.] was on the more sophisticated and slightly wealthier side in terms of retail investor, and as the level of interest from retail investors has grown, we've sought to broaden the general appeal of the product," he said. "In Brazil, we're focused on serving the entire market."
Asked about other companies playing in a similar field in Brazil, Shoykhet said he would consider the major brokerage platforms as competitors, including Itaú, BTG Pactual and XP.
"Instead of launching a direct-to-consumer product in Brazil, we wanted to partner with Banco Inter, which has significant scale and already has a massive customer base," he said.
As it looks to the future, Atom Finance plans to launch in other markets later this year, along with a new pro tier for underserved institutional investors.
"We're focused on leveraging what we built and making it accessible to more folks globally and what that means is both adding more markets, and also adding functionality that appeals to different specific audiences in other subspaces of the financial industry," Shoykhet said.