What do you get when you cross a technology investment banker with a financial services wonk? Answer: the founder of a leading finance and investing-industry media company! Enter the world of Nikesh Desai, founder and CEO of InvestingChannel. 
Desai started his career at Robertson Stephens as an I-Banker, caught on to the dotcom boom at PeoplePC, then joined TheStreet.com where we made his bones as a leader in the Financial Services publishing space. Now, as CEO of InvestingChannel, he oversees one of the largest networks of advertisers and publishers in the space.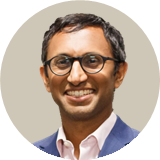 One thing you notice about Nikesh when you talk to him is his undying love for what he does. Get him talking about InvestingChannel and his discourse requires no punctuation – he simply gushes and gushes. The attention given to FinServ and Fintech specifically buoys his spirits – the more money and ideas that flow into the space, the more his company grows and delights.
Not all is rosy, of course, in any company that is connected to media. With advertising perennially questioned and marketers focused – often myopically – on optimization and ROI, the going isn't always great. Desai is sanguine about this – over the dozen years he's run InvestingChannel, he's seen numerous ups and downs. Good content always rises to the top and value is always recognized – that is his mantra.
Desai and his leadership team have made some tectonic changes in order to skate to where the puck is going. Offering a variety of new formats for content, using an AI backbone to drive relevance, and hiring talent from a variety of industries – all of these moves have strengthened both the core of the business but also its ability to drive innovation and bring it to market with alacrity. The company grew in 2020, a year of incredible hardship for many businesses.Desai is very well-respected in his peer community. One executive who I interviewed – and who chose to stay anonymous – said, "When Nik Desai speaks about Financial Services Media, people listen because he built one of the best brands in the business even in the first 5 years of his company's life." Desai himself offers rather a more humble talk-track, "We certainly worked hard but we also got lucky. We were able to develop incredible customer relationships and innovate with them. We never, ever thought that an ivory-tower approach would work in an industry full of incredibly smart people."
With customers and partners ranging from large, "traditional" firms to newly-minted and disrupted startups, InvestingChannel is forging a fascinating path. "We bring publishers and advertisers together, with the audience as a commonality," says Desai. In a world of dogged competition, such words of "cooperation" certainly sit well.
Faces of Fintech a series of profiles on executives in and around the fintech ecosystem. Prior profiles have included PwC's Paul Dunay and Pepper CEO Pulak Sinha.