Although overall deal activity in fintech declined in the second quarter of 2020 — signaling potential headwinds aside from the COVID-19 pandemic — total funding climbed 17% quarter-over-quarter, according to a recent report from business analytics provider CB Insights.
Contributing to the deep second-quarter funding pool of $9.3 billion: a record-high 28 VC-backed equity deals of at least $100 million each, otherwise known as mega-rounds. Fintech funding in the first quarter approached $8 billion.
"Some of these mega-rounds may have been to support companies with high cash-burn rates being put under pressure by the ongoing economic uncertainty," noted the report. "Mega-rounds have become more common as successful startups are generally staying private longer. However, the recent spate of IPOs and IPO filings may indicate the start of a shift in this trend."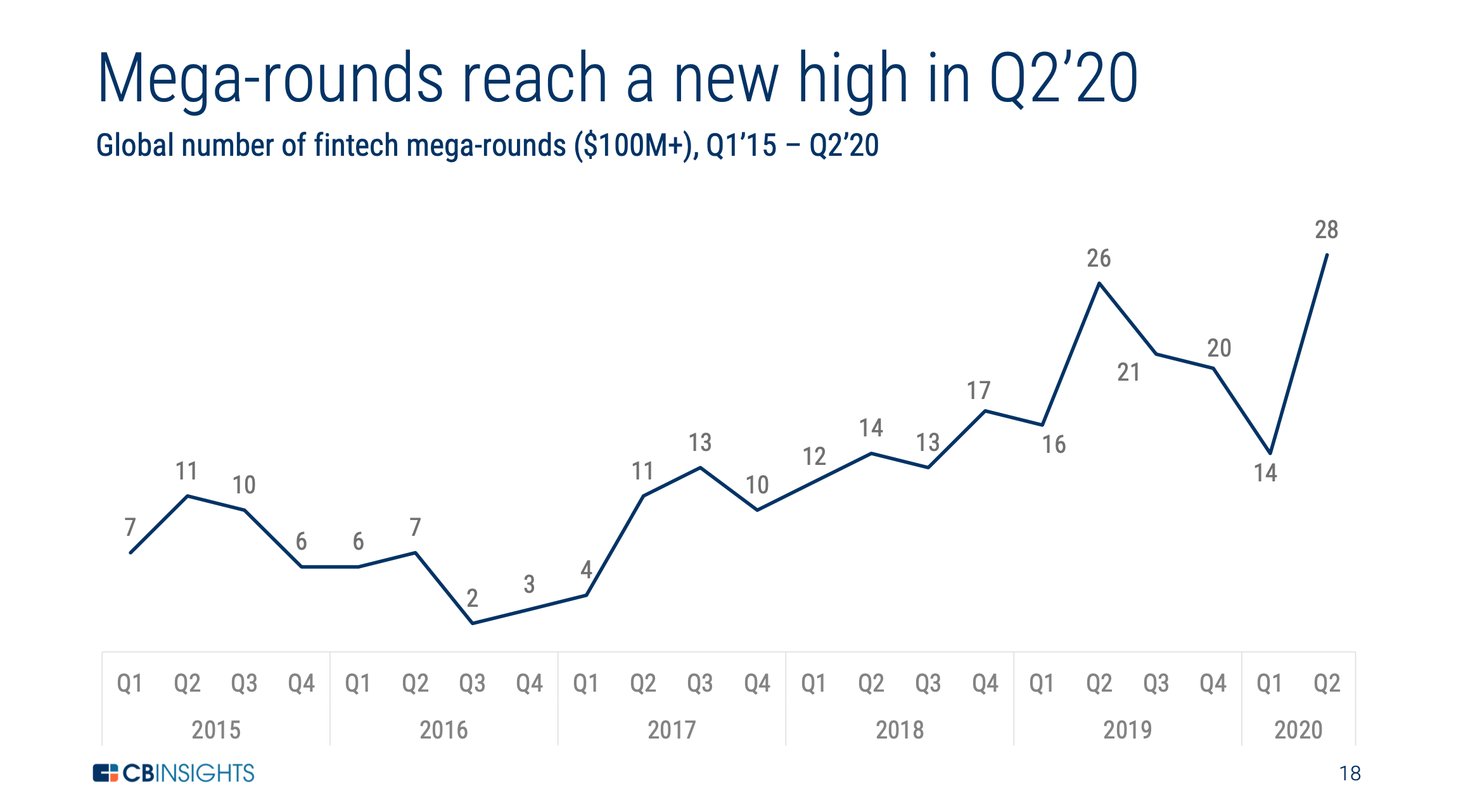 Second-quarter IPO filings included insurtech company Lemonade, fintech company nCino and loan provider Rocket Companies. Lemonade's stock debuted early in the third quarter, raising $319 million. Also in July, the IPO of nCino garnered nearly $250 million, while the August IPO of Rocket hauled in about $1.8 billion. During the second quarter, insurtech company SelectQuote collected $360 million in its IPO.
These IPOs indicate "that the fintech ecosystem is continuing to mature, especially as financial technology becomes more deeply embedded across other sectors," the report said.
In addition to IPOs, the second quarter also ushered in several major M&A deals in the wealthtech space:
Retirement services provider Empower Retirement purchased online financial adviser Personal Capital for $1 billion
Goldman Sachs bought Folio, a platform serving registered investment advisers, for about $500 million
Investment manager Franklin Templeton acquired wealth management platform AdvisorEngine for an undisclosed amount
Charles Schwab bought the technology and IP of investment platform Motif, which shut down in April, for an undisclosed amount
While M&A volume was robust, VC-backed funding deals fell from 452 in the first quarter to 397 in the second quarter, a drop of 12%, the report shows. However, since there were more large deals, it's not surprising that deal volume was lower overall.
On the flip side of the coin, the number of mega-rounds in the second quarter (28) beat the previous record high of 26, set in the second quarter of 2019, the report says. The second-quarter tally went up 100% compared with this year's first quarter, when 14 mega-rounds were recorded.
Also, the report identified 66 VC-backed fintech unicorns worth a combined $248 billion as of June 30. Among the U.S. fintech companies valued at $1 billion or more are:
Payment processor Stripe, $36 billion
Payment platform Ripple, $10 billion
Digital currency exchange Coinbase, $8 billion
Investment app Robinhood, $7.6 billion
Financial services provider Chime, $5.8 billion
Loan provider SoFi, $4.8 billion
Restaurant software provider Toast, $4.8 billion
HR platform Gusto, $3.8 billion
Insurtech company Root, $3.5 billion
Insurtech company Oscar, $3.2 billion
Here's a breakdown of second-quarter deal flow in various segments of fintech:
VC-backed deals in the payments sector inched up slightly in the second quarter (to nearly $3.5 billion) from the first quarter, the report says. But the number of deals declined (from 91 to 86). Helping propel revenue growth in the sector: fintech embedded within e-commerce.
The dollar amount of banking deals dropped a bit from the first quarter, landing at $2.3 billion. The number of deals also decreased (from 63 to 54). "Well-funded startups have piled into the banking market," according to the report, "but Covid-19 may accelerate consolidation as leading challenger banks look to gain market share and expand their product offerings."
Funding for alternative lending companies shot up in the second quarter to nearly $1.7 billion, up sharply from $866 million in the first quarter. The number of deals also increased (from 42 to 55).
In the wealthtech sector, funding skyrocketed, going from $450 million in the first quarter to nearly $1.2 billion in the second quarter. However, the number of deals rose by just four (from 28 to 32). Wealthtech startups "are raising larger rounds as competition heats up," the report says.
Across insurtech, funding grew from $876 million in the first quarter to nearly $1.6 billion in the second quarter. Yet the number of deals fell (from 75 to 66).
Eight mega-rounds — up from the previous high of seven in the second quarter of 2018 — dominated funding activity in the capital markets segment. The dollar total approached $2 billion, up from nearly $1.5 billion in the first quarter. Deal volume went down, though (from 59 to 51).
The bucket of funding in the SMB space was overflowing, rising from $782 million in the first quarter to more than $1.8 billion in the second quarter. The number of deals also went up (from 37 to 48).
Proptech funding dipped from nearly $1.2 billion in the first quarter to almost $1.1 billion in the second quarter. That represented a five-quarter low. Deal volume declined from 75 to 70.
In case you missed the link above, here's a way to access CB Insights' full Q2 fintech funding report.