The insurance industry has never been seen as particularly sexy. But the appeal of insurtech is undeniable.
Last year, venture-backed insurtech companies around the world raised $7.5 billion, according to data compiled by Crunchbase. So far this year, insurtech funding is a bit behind its frenzied pace of 2019, with $2.5 billion raised in the first six months, the data shows.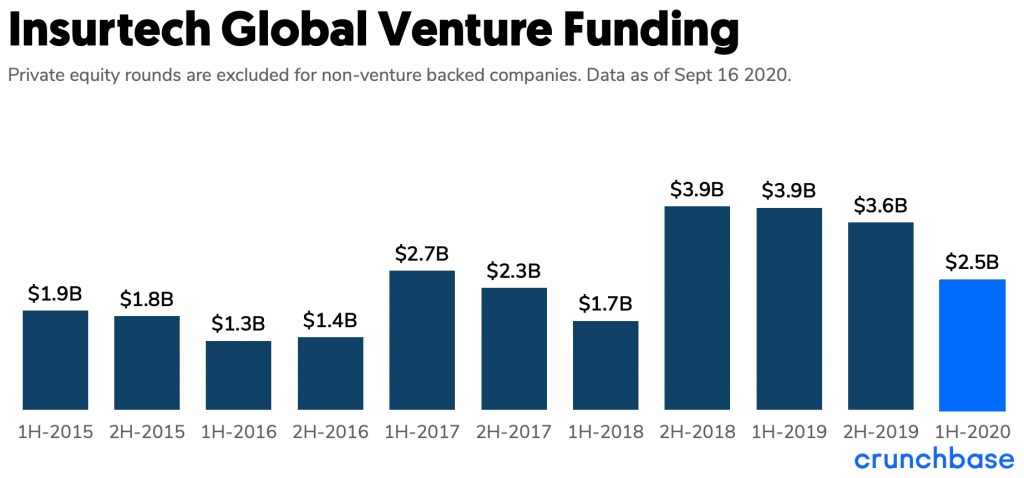 However, recent developments suggest that insurtech is bringing its sexy back:
These and other high-profile deals come as forecasts show insurtech revenue is set to explode. For instance, ResearchAndMarkets.com predicts global insurtech revenue will climb from almost $5.5 billion in 2019 to nearly $10.2 billion in 2025. The research firm says the digitalization of insurance might represent "the next big opportunity" after fintech. Professional services firm Deloitte says the pandemic has prompted many insurers to ramp up digital transformation.
Ann Dieleman, interim managing director of the Global Insurance Accelerator in Des Moines, Iowa, said she envisions increasing adoption of insurance technology, particularly tools that improve process automation, claims management, digital sales and customer engagement.
"The duration of this pandemic is causing organizations to rethink all areas of their business. Many don't anticipate going back to an in-person environment until well into 2021, so organizational leaders cannot simply stay the course and wait it out," Dieleman told FinLedger. "It's causing insurers to adapt more quickly and question how to become more effective and improve overall customer experiences, which results in increasing the speed at which decisions are being made."
Investor perspective
Nate Niparko, a partner at VC firm Accel, also foresees stepped-up interest in insurtech. Accel participated last year in a $60 million Series C round for Ethos, a digital seller of life insurance. Google's GV funding arm led the round.
"The insurance world was notoriously slow to move online, but that transition is happening now. The early signs of the shift came when advertising and customer acquisition budgets began moving toward digital channels, and more recently we're seeing digitally native insurance brands earning the trust of consumers," Niparko told FinLedger. "Given the sheer size of the insurance category, we think there are a lot of big businesses to be built in insurtech as this offline-to-online shift continues."
Niparko noted that insurance companies spend billions of dollars a year to earn the trust of customers in the form of TV commercials, naming rights for stadiums and other marketing efforts. But as the core demographic for insurance products moves more toward digital natives, insurers will follow suit by further embracing digital platforms to help gain the trust of a tech-savvy generation of customers, he said.
David Gritz, co-founder of InsurTech NY, which just launched its first accelerator, said insurtech funding has picked up in the past three or four years. Previously, VC firms weren't looking much at insurtech investing. Rather, he said, they were scoping out opportunities in traditional fintech segments, such as payments technology, so it took time for them to hire people familiar with insurance and to make initial bets on insurtech. Now, Gritz said, traditional VCs and fintech VCs feel more comfortable with the space.
Meanwhile, a number of funds with an insurtech focus have popped up, he said. These include funds set up by Anthemis, Clocktower Technology Ventures and SixThirty. Within the insurance industry itself, prominent insurtech investors include American Family Ventures, AXA Strategic Ventures, MassMutual Ventures, Nationwide Ventures, New York Life Ventures, Northwestern Mutual Future Ventures and Transamerica Ventures.
In an April interview, Eric Ross, managing partner of Nationwide Ventures, said the firm's average investment is around $2.7 million, mostly in Series A and B rounds. Nationwide Ventures typically aims for a 3% to 10% ownership stake in startups with at least $1 million in recurring revenue, he said. Nationwide's VC team has eight members, according to Gritz.
Ross said that "at the end of the day, we're looking to invest in the best companies for Nationwide, so we don't have to pick the unicorns, so to speak, but we do need to pick companies that we believe will have a material impact on our business. If a company can save us $100 million, then that's way more impactful than a return that we're going to see."
Another player in insurtech investing, fintech VC firm QED Investors, just led a $10 million Series A round in Decent, an insurtech startup that sells health insurance to self-employed professionals and small businesses. QED's portfolio includes three other insurtech startups, as well as big-name fintech players like Credit Karma, Fundera, LendUp, Prosper and SoFi.
In February, QED closed an oversubscribed fund of $350 million. In a news release announcing the fund, Nigel Morris, co-founder and managing partner of QED Investors, said the firm helps fintech founders "surefootedly grow breakthrough companies."
Obviously, QED hopes one of those breakthrough companies is Decent, whose other investors include Vulcan Capital, Mouro Capital (a recent Santander InnoVentures spinout) and the Airbnb syndicate AirAngels.
Startup side
Nick Soman, co-founder and CEO of Decent, said the $10 million in funding will help the startup expand from its current market, Austin, to the rest of Texas. Decent has raised more than $18 million since it launched two years ago.
Soman said his company is part of a fintech ecosystem whose strength is being bolstered by the pandemic.
"Sexy spaces have gotten so flooded with technology that you could find 5,000 startups in California right now that are touching on some aspect of social media, or some aspect of travel or dating," Soman told FinLedger.
"A lot of the gigantic incumbent industries have been relatively untouched," he added, "in part because of the amount of capital and the amount of seriousness you need to bring to try to make something that is really different in these highly regulated spaces where it isn't just about making a website. If I'm going to be serious about taking care of people and their families, the whole thing needs to work. There's no such thing as an MVP in the insurance sector."
As with any part of the startup world, insurtech isn't without its casualties. Despite some lofty valuations in the sector, advisory firm Willis Towers Watson estimated in January that in the past three years, 184 venture-funded insurtech companies around the world have gone out of business.
Nonetheless, insurtech investors see a chance to "make some real change," Soman said. In fact, a new insurtech report from consulting firm Capgemini and Efma, a nonprofit representing insurers and banks, makes the case that insurance companies must make real changes to their digital strategies as "big tech" (Amazon, Apple, Google and the like) and non-traditional players enter the insurance industry. The report urges legacy insurers to view big tech and non-traditional players as partners, though, and not as competitors.
The report found that:
67% of insurers want to collaborate with insurtech companies.
85% of insurtech companies want to partner with tech providers, and 83% want to collaborate with insurers.
More than 60% of insurers and insurtech companies are interested in collaborating with big tech.
Anirban Bose, CEO of Capgemini's financial services strategic business unit, said partnerships with insurtech companies "will help insurers digitize faster and more efficiently, deepening their customer relationships and helping them to fend off these new entrants."
As the leader of one of those new entrants, Soman believes insurtech companies wield an advantage.
"The truth is, with modern software and a talented team, I can do things that it might take an insurance company three times the staff to do," Soman said. "Ultimately, if we can pull that off in a way that that works for our members, that benefit should accrue both financially and experientially to them, not just to us."
"It's going to sound a little goofy, but I want to help a billion people. Obviously, that means bigger than just Texas and bigger than just Austin," he told FinLedger. "We think that if we can get this right for health insurance, we might earn the right to solve other problems, too, but we've got plenty to do before I can make big-talk claims like that."