Gig Wage, a startup focused on helping contractors get paid faster and more efficiently, has raised $7.5 million in a Series A round led by publicly traded Green Dot.
The new financing brings Dallas-based Gig Wage's total raised since its 2014 inception to nearly $11 million, according to Crunchbase. Other participants in the latest funding round include Continental Investors, Techstars, Revolution's Rise of the Rest Seed Fund, and others. Green Dot contributed one-third, or $2.5 million, of the total Series A investment.
The agreement with Green Dot – a fintech and registered bank (a unique combination) – goes beyond an investment. The companies also announced Tuesday that Green Dot will serve as an infrastructure bank partner to Gig Wage, so that the startup can add "seamless, reliable" banking solutions to its instant payments platform for gig workers.
By leveraging Green Dot's Banking as a Service platform, Gig Wage can now design and deploy its own customized banking and money movement solutions for its customers.
The partnership also allows Gig Wage the ability to introduce a new debit card with no monthly fee, free online bill pay, and free cash withdrawals at more than 19,000 ATM locations; free cash pick-up at over 7,000 retail locations nationwide; and other products and tools designed for gig workers and their employers.
I hopped on the phone with Gig Wage CEO and founder Craig J. Lewis to hear more about the company's background, its latest raise and plans for the future.
He said that as his company laid the foundation to offer financial instructure for the "Future of Work," it became clear that Green Dot was the best partner for Gig Wage "to help the most people."
"Our partnership with Green Dot will not only help us on our mission to increase the GDP of the gig economy, but also help us provide a financial social safety net for gig workers everywhere," he said.
Meanwhile, Lewis adds that the Series A was oversubscribed.
"The interest was crazy," he told FinLedger. "We could have raised a lot more."
Background
Lewis is a self-described "non-technical" guy who didn't own his first computer until his mid-20s.
He was an athlete who went on to play basketball professionally in Europe but at the same an "undercover nerd," he jokes.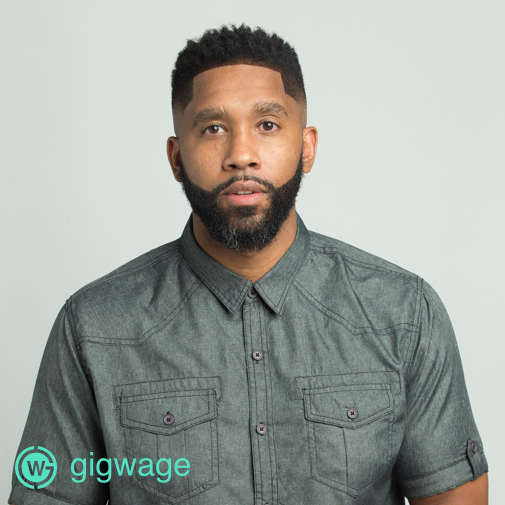 His first exposure to the payments world was in 2008 when he got a job at ADP. As a sales rep at the company, he sold ADP's first cloud-based product where he "fell in love with democratization to get people paid."
At that point, he dedicated his career to becoming an expert in payroll technology and ancillary technology, eventually leaving ADP. During this time, Lewis saw "a couple of really unique opportunities" in the payment space "that could be massive."
"It seemed that no one had the interest or courage to go that big," he recalled. "Instead I was selling companies third party technology to build on. But that meant they would not own the technology."
Lewis went on to found Gig Wage in 2015 but under a different business model. He admits at first, that things were not working out.
"I had hired the wrong team and was struggling to find the right product market fit," Lewis recalls.
In 2016, he read a report from McKinsey about the gig economy and realized no one was doing payroll for this population. Meanwhile, all signs were pointing to having to shut down the company.
"We had raised $750,000 but didn't have a product. But instead of shutting down, I kept moving forward," Lewis told FinLedger. "I didn't want to lose our investors' money. I didn't want to be the black guy that lost their money so the next black guy couldn't get their money."
So he brought in a new team and rebranded and within 30 days, had launched an MVP (minimal viable product) – a business software offering (built on top of Stripe Connect) to help businesses pay freelancers. Gig Wage, as it exists today, actually was born in 2017.
Looking back, Lewis recognizes the first version of Gig Wage's offering needed work.
"We were just trying to get up and going fast but from day one, we had a paying customer, which was amazing," he said. "But we persisted and kept etirating."
In the process, he realized gig workers just wanted to get paid fast and flexibly. Gig Wage integrated with Mastercard and Visa, for example, to create "a fast and flexible payroll system." He also realized that not only SMBs (small-and-medium-sized businesses) needed a payments and payroll application, but also startups, mid-sized companies and enterprises.
"So we began marketing to larger customers," Lewis said. "We got more confident. Then we raised a $2 million round, which included Rise of the Rest as a major investor, at the end of 2018. That really got us rolling."
The company then realized that it needed to become the bank for its customers if it wanted "to become exponential."
Recognizing that Green Dot was one of the only payments and cards companies that own their bank, Gig Wage saw the value of partnering with the company so that it could offer payroll payments and banking from a single dashboard.
"We are building the financial ecosystem and infrastructure for the modern workforce," Lewis told FinLedger.
Up to this point, the eight-person team "has done a lot with very little." All of its growth thus far has been organic.
"We've had no sales, marketing or business development efforts," Lewis said.
Today, Gig Wage has several hundred business paying 10s of 1000s contractors in all 50 states via its application.
The company offers a web application for the less tech-savvy of its customers. Others use its API products to build the capabilities into their apps. Some use a hybrid of both.
"Ultimately, we're looking like the Stripe for e-commerce with a big focus on the delivery setcor and marketplaces" Lewis said. "And, the 1099 economy is massive – estimated at $1.4 trillion last year."
With its new capital, Gig Wage plans to amp up its sales and marketing efforts in a big way. It also plans to at least double its staff in the near term. During that time, Lewis also expects Gig Wage to become an API-first company.
"Every dollar in the past was going to keep our lights on," he said. "But now we're going to get more aggressive on our go-to-market strategies, and branch out globally. Going international is a big part of our roadmap,and part of the reason why we participated in Western Union's Techstars program."
Investor POV
In a written statement, Green Dot CEO Dan Henery said the gig economy "presents tremendous demand and opportunity" for enhanced banking and payments tools and experiences.
Founded in 1999, Pasadena, California-based Green Dot has served more than 33 million customers directly, and now operates primarily as a "branchless bank" with more than 90,000 retail distribution locations nationwide. Green Dot Bank is a subsidiary of Green Dot Corp.
David Hall, managing director of Rise of the Rest, told me today via a telephone call that the "Future of Work" is an important theme for the fund.
Lewis, he said, "is really rethinking the services that should be available to independent contractors. And in doing so, fundamentally, I think he is giving these workers a sense of dignity."
He also points out that over the last nine months, many contractors – such as delivery drivers – have become the frontline workers.
"These workers deserve the types of integration that make it easy for them to operate their business," Hall said. " I think Gig Wage has built a solution for those workers and it's been completely leveled up by its partnership with Green Dot, which will give it depth, breadth, access to additional products as well as the ability to do what their end user customers demand, which is provide quicker turnaround on compensation." so that their end user can get compensated faster."