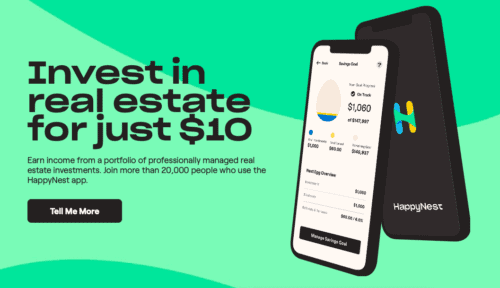 HappyNest, a real estate investment trust that requires just $10 to join, announced a "round up" feature to its mobile app on Thursday.
Coined as "Loose Change," users of the platform can link their bank accounts or credit cards to commit rounded up purchases to the nearest dollar and invest the difference into their portfolio every time they shop online.
Investing spare change has become an increasingly popular strategy for new stock traders and is key when competing with other investment apps such as Acorns, Chime and Wealthsimple. In July of 2021, investment giant Robinhood also began developing an option of round up investments, according to code hidden inside a test version of the company's iPhone app.
HappyNest, however, claims it is the first real estate investment app to offer the option.
Founded in 2017, the proptech prides itself on offering each user the foundation they need to build a solid nest egg to sit on for the future. According to HappyNest, every user account has the potential to see up to a 6% yearly return on their investment through portfolio management and compound interest and every deposit made in the HappyNest app automatically purchases shares of HappyNest REIT.
"We are on a mission to make investing in real estate available, affordable, and easy for everyone regardless of income," said Jesse Prince, CEO of HappyNest.
SEC filings by the company promote the proptech as one that is heavily vetting its properties. Filings show an emphasis on single-tenant commercial locations with "strong real estate fundamentals" like creditworthy tenants, long-term net leases and limited landlord obligations.
HappyNest also boasts 0% broker commissions and $0 platform fees. Its income is flowing in by paying out dividend income based on the rent paid from each of its users' real estate investments, which can be an annualized rate of up to 6% of the money they've invested.
It also earns revenue when it acquires or sells assets, alongside a small annual asset management fee on the total value of assets under management.
Its newest feature, Loose Change, is currently available to all customers at no fee.
""By offering our customers an easy, hassle-free way of saving, we provide them the ability to grow their nest egg by purchasing shares of quality real estate usually reserved for the 1%," Prince said.