ICON, an Austin-based construction tech startup, has raised $35 million in Series A funding.
Moderne Ventures led the round, which brings ICON's total venture raised since its late 2017 inception to $44 million. Global architecture firm BIG-Bjarke Ingels Group also participated in the Series A investment, along with CAZ Investments, Citi, Crosstimbers Ventures, Ironspring Ventures, Next Coast Ventures, Oakhouse Partners, Trust Ventures, Vulcan Capital and Wavemaker Partners.
ICON aims to reinvent building affordable homes with the use of 3D-printers, robotics, and advanced materials. CEO and co-founder Jason Ballard has been vocal about the fact that the company is motivated by the global housing crisis and a lack of solutions.
Since 2018, ICON has 3D printed nearly 20 homes in the U.S. and Mexico. And it's gearing up to print "hundreds more," according to Ballard. It's also completed one structure with the United States Marine Corp after training the Marines to operate ICON technology.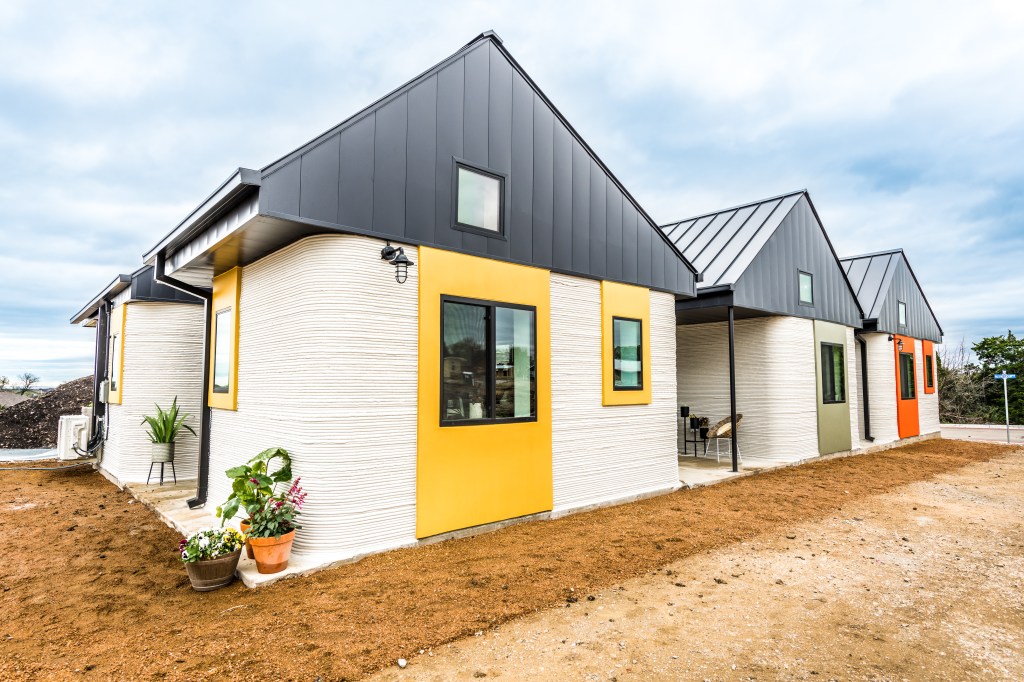 "We anticipate more high-velocity progress in the years ahead to help bring housing and construction into the modern world and in line with humanity's highest hopes," Ballard said.
The current challenges the world is facing due to the coronavirus have only emphasized "the tremendous gap between the housing that we have and the housing that we need," he added.
Constance Freedman, founder and managing partner of Moderne Ventures, believes that traditional building and construction techniques are antiquated and increasingly expensive.
"The results are vast deltas in affordability, limitations on design and both time and efficiency challenges," she said. "I believe we will see an evolution of the entire home-buying value chain, especially when integrated with other technologies like digital transactions and augmented reality. Consumers will be able to order, build, design and purchase a brand-new home in a matter of days–something that's truly innovative and truly disruptive."
The startup has seen impressive growth as of late, doubling its headcount to 50 over the past year. It's also growing financially.
"We've had 300% revenue growth in 2020 vs 2019 and seen a 300% revenue growth 2019 vs 2018," Ballard told FinLedger. "We anticipate profitability within the next year."
ICON plans to use its new capital to accelerate the development of its printers, create a variety of home types and designs and enhance its core technology stack. It also plans to fill a number of positions across its robotics, off-planet construction, materials science, software engineering, architecture, building science and operations teams.
"We are well under way in [the] planning phases of projects to 3D print mainstream American housing in central Texas, continuing R&D with our technology and material science…and continuing our work in off-world construction," Ballard said.
Background
ICON unveiled its first 3D printer and successfully secured a building permit and printed a home in Austin, Texas in March 2018. The 350-square foot house took about 48 hours (at 25 percent speed) to print at a cost of about $10,000 (although today it would cost less), according to Ballard.
ICON purposely chose concrete as a material because, as Ballard put it, "It's one of the most resilient materials on Earth."
The startup raised $9 million in seed funding in October of 2018, a round that included participation from homebuilder D.R. Horton.
In 2019, the company launched its Vulcan technology stack and delivery of strategic, signature projects in the U.S. and Mexico.
This year, ICON delivered "resilient, dignified" 3D printed homes in Mexico with nonprofit partner New Story. It also completed a series of homes serving the chronically homeless in Austin, Texas, with nonprofit Mobile Loaves & Fishes.
"We have been working mostly with nonprofit organizations with our early technology to deliver homes for those in need as we continue to mature the technology and we will continue this work while we continue to scale into mainstream market housing," Ballard told FinLedger. "We've also expanded our partnerships to include the DoD (Department of Defense). New applications for the technology help to accelerate the work we are able to do within the residential side. Breakthroughs and innovations happen at an accelerated pace and we believe the ripple effects will be felt across sectors."
ICON's mobile printer weighs about 2,000 pounds, fully prints on-site, and does not require printing in an off-site location. The entire home is printed "seamlessly," produces nearly zero waste and is highly durable, low maintenance, and energy-efficient to operate, according to ICON.
While ICON says it is not yet at a point where its printed homes are for sale to the public, it says it still has the "ambitious goal to get to the point where you can download and 3D print your home in half the time and for half the cost."