Insurtech Ascend, a modern insurance payment platform provider, announced raising a $5.5 million seed round led by First Round Capital on Wednesday, according to a press release.
The insurtech company said it will use the funding to continue growing its product development team, and scale the business to meet the needs of the market.
Susa Ventures, FirstMark Capital and Box Group also participated in the seed round, as well as angel investors Joshua Motta of Coalition, Spike Lipkin of Newfront Insurance, Ben Rubin of HouseParty, and Max Mullen and Brandon Leonardo of Instacart.
Ascend enables its insurance clients to offer flexible payment options to their customers through a consolidated API-driven payment platform. The tech includes in-full and Buy Now, Pay Later (BNPL) financing, automatically updated premium financing agreements, cancellation mitigation and instant commission via ACH.
"They don't need to figure out how to collect credit cards, or ACA, or offer point-of-sale financing. We do all of that with our three APIs through a very simple integration," Ascend co-founder and co-CEO Andrew Wynn said in an interview with FinLedger.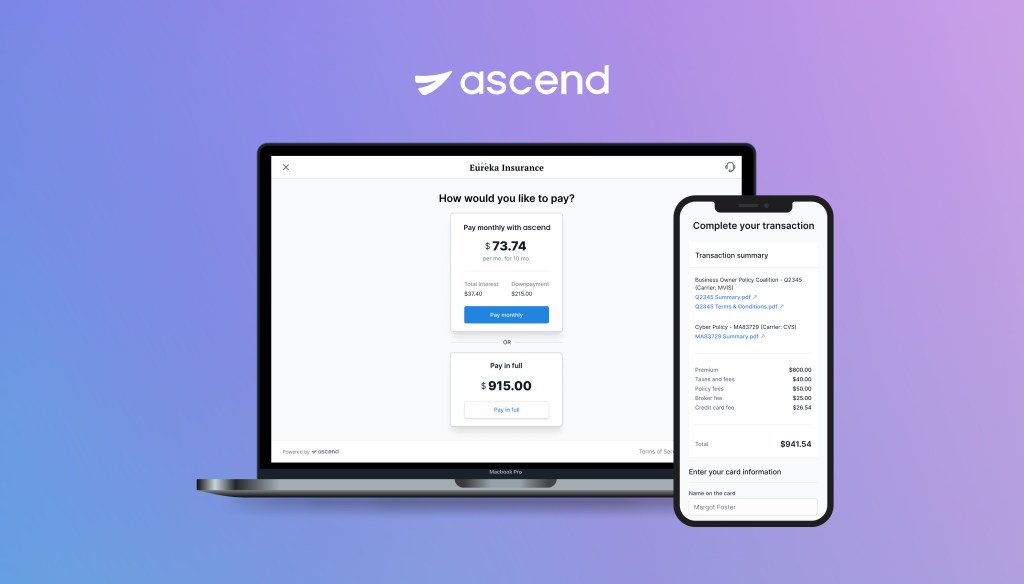 Ascend and its insurtech platform was founded in early 2021 by Wynn and Praveen Chekuri, after the two previously built and sold home maintenance startup Sheltr to Hippo Insurance in November 2019.
The BNPL option offered by Ascend is critical for insurance, Wynn said, pointing to commercial insurance as one area where split financing could be the deciding factor of buying coverage or not.
"If I'm a truck driver, my average policy is between $10,000 and $15,000 a year. That's a really big check to write. I might not have 15 grand, and if I do, I don't want to give it to my insurance company," he said.
Splitting payments monthly is common in personal insurance, but doesn't exist as much in commercial insurance or riskier lines of insurance where it is needed most, according to Wynn.
"What we're trying to do with BNPL is make it easier for people to protect the things they care about, and so if you need to buy insurance, let's reduce the friction," he said.
The insurtech's platform is currently live in 20 U.S. states and is on track to be operating in all 50 by the end of the year.
Currently, Ascend has just nine employees, with plans to add business development and engineering members to reach 15 by the end of the year, and a goal to have 50% of its team come from backgrounds underrepresented in tech.
Wynn said that the insurance world is still catching up, due in part to the risk-adverse virtue of the service itself as well as the role insurance plays in financial infrastructure.
"What that results in is essentially an outdated customer experience, right? 600 million paper checks are still sent every year for insurance, that's pretty crazy," he said, adding that existing insurance companies are already well-equipped to provide their core services.
"What they're not good at yet, is how they are interacting with customers in a modern way, and we want to help them with that."