KayoCloud, which describes itself as the first virtual, cloud-based commercial real estate brokerage (CRE) in the United States, launched on Monday.
After partnering with traditional firms over the past two years in stealth, New York-based KayoCloud is now offering its software and machine learning technology directly to individual brokers.
The virtual commercial brokerage is launching with over 15 agents –– many of whom used the technology at their previous firms. KayoCloud claims that its brokers "benefit from increased efficiency and deal flow while having the convenience and flexibility to work anywhere, anytime."
Plans start at $49 per month.
Joe Richter, a former CRE broker himself, founded KayoCloud in early 2018 with the mission of transforming the way commercial properties are bought and sold.
He was inspired after he realized the firm he worked at (the now-shuttered Eastern Consolidated) "represented a very old-school approach toward the process of real estate transactions," he told FinLedger.
"As a young tech-savvy person coming out of college, I was shocked by the lack of technology and how antiquated the process was. After successfully doing a few deals over my first two years at the firm, I started to get a better sense of the industry, and was surprised how my company was the rule, not the exception."
The traditional major brokerages, Richter said, relied on a lot of back-office work, cold calling, and an inefficient work process.
"This would sometimes lead to fights because everyone was calling each other's clients," he added.
So Richter left the brokerage where he worked to co-found KayoCloud with his brother Jake, who previously worked at a machine learning startup. Since then, the company says it has helped some of the largest firms in the industry (such as AvisonYoung and Cushman & Wakefield) facilitate $427 million in sales volume to date. Ironically, Eastern Consolidated – shut down one year later, which has portended what has taken place to the rest of the brokerage industry.
Usage on its enterprise platform (LSpire) rose by 800% during the pandemic, according to Richter.
"Commercial brokers are rethinking their need to depend upon the likes of Cushman, CBRE, and JLL, and are now embracing a cloud-based model where they retain 100% of their commission," he said.
How it works
The company's cloud-based technology includes its AI lead-gen and microtargeting capabilities known as Arrow + Dart. KayoCloud's Dart uses survival analysis to foresee properties that will hit the market, and Arrow micro-targets relevant buyers to sell deals.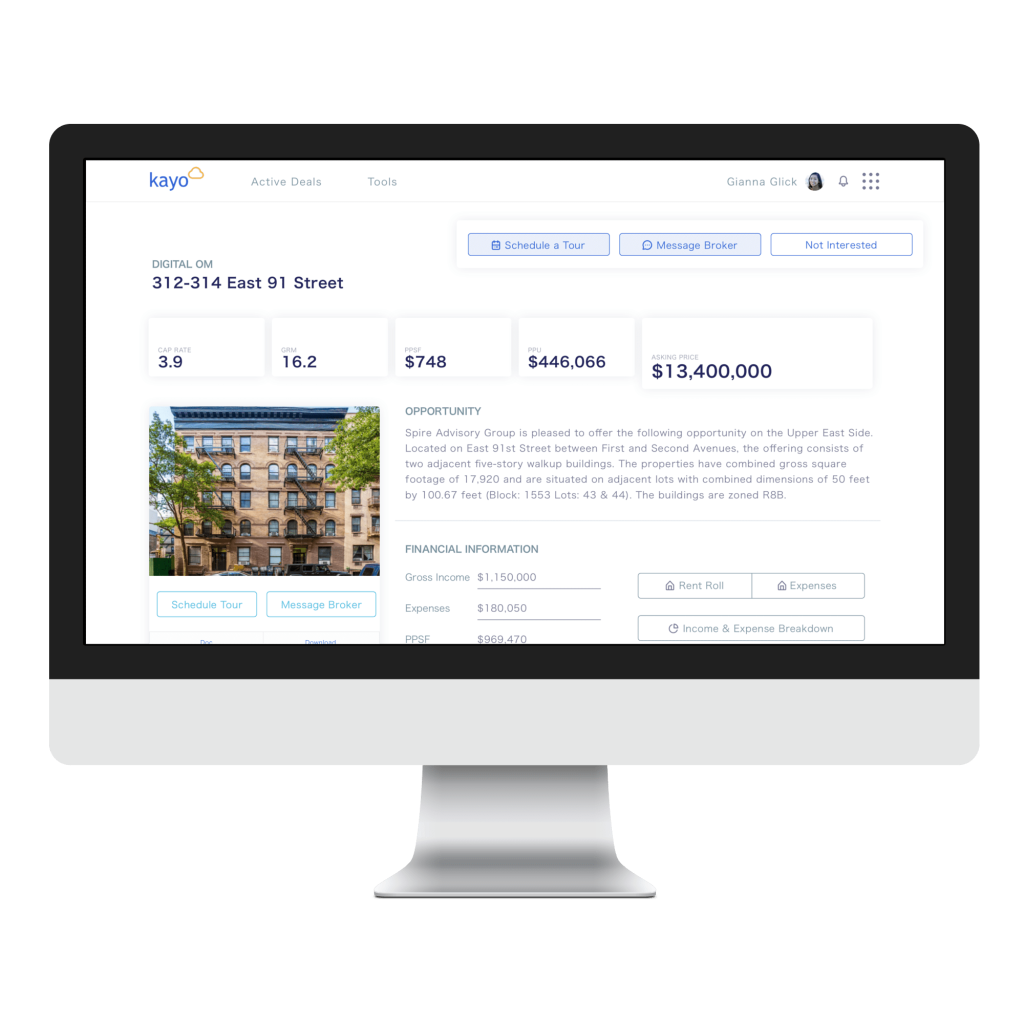 Erik Edeen, a principal at Avison Young, said LSpire "embodies the cutting edge of CRE technology."
"In a world full of increasing distractions, the ML/AI capabilities allow a broker to cut through the static," he said in a written statement.
An example of how the technology is being used lies in how a prospective broker ran its model to determine likely buyers on a Brooklyn property.
"Our technology correctly identified his highest offer to date from an under-the-radar local investor group, and also brought new buyers to the mix," said Jacob Maarek, KayoCloud's chief data officer.
Kayo's system is connected to its deal management software that aims to empower brokers to track each phase of a deal in real-time. All document signings take place "securely" in the cloud, including NDAs, letters of intent, and commission agreements, the company says.
Richter likens the company to eXp realty, which targets residential agents, while Kayo – he claims – is the first startup to focus on commercial ones.