Throughout Friday afternoon, many users of the personal finance app Acorns received notifications via email that their accounts have been locked due to "recently discovered unusual activity with [their] Acorns account[s]."
And, for the record, this correspondent was among those affected.
Here's what happened and how I interpreted it. At the rather propitious time of 4:20 PM Central, I received an email from Acorns stating that my account has been "temporarily locked to prevent potential fraud." The next paragraph, styled in bold text, stated that I should call a customer service number "so that [Acorns] can verify that [my] account is secure."
Considering that I've been a passive user of Acorns' service—which rounds up debit card transactions and invests change across one of several user-selected robo-advised asset baskets—for a few years, I assumed that this message was sent in error, and that the process for rectifying the issue would be straightforward.
However, after calling the provided phone number, several times, to be alternately greeted with busy signals or call-failed notifications, it became clear that that assumption was incorrect.
I tried every trick in the book. I logged out of the session and attempted to log back in; Acorns sent a 2-factor code to my phone, and after spinning the loading icon for an unsettling amount of time I was notified that my login attempt failed. I tried resetting my password, and over an hour later I'm still waiting on an email containing a password reset link. I tried logging in through the little-used desktop website portal and was greeted with the same message I received on mobile: "Something went wrong. Please try again in a few minutes."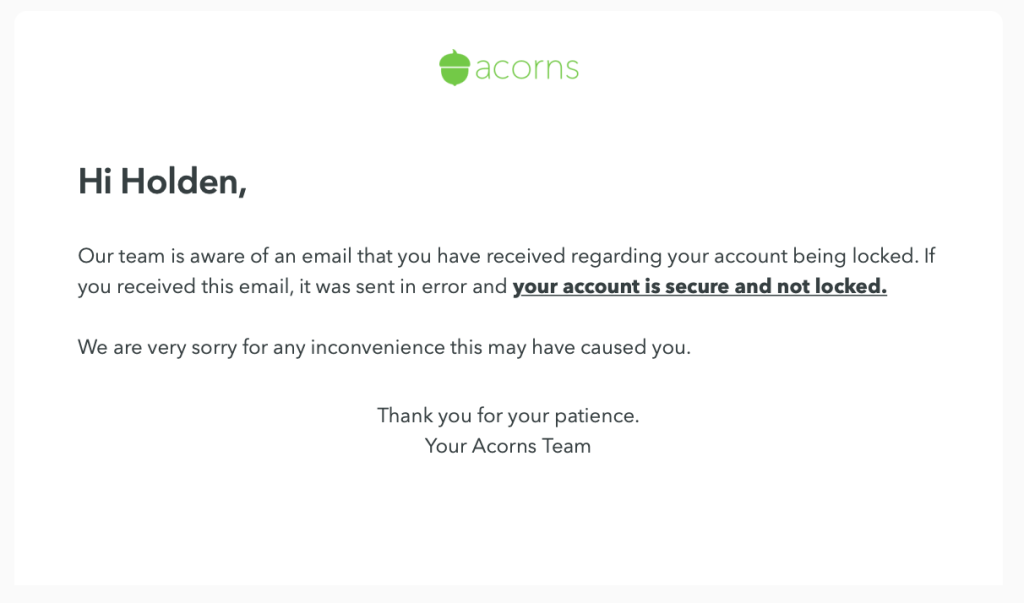 It turns out that I'm not alone. A quick twitter search for "Acorns" yields a mix of hundreds of bewildered users of the personal finance app platform company—which is allegedly slated to go public via a merger with Pioneer Merger Corp. (NASDAQ:PACX), a special-purpose acquisition company, in a transaction valuing Acorns at $2.2 billion—the oak tree nuts that are the app's namesake, and those crafty lagomorphic creatures which bury those nuts for safe keeping. But, like squirrels, users of Acorns are remembering just how much money they've stored away and now feel frustrated they can't access it.
At least as of Friday, when the account issues began appearing, many users are taking to twitter to proclaim intent to close out their Acorns accounts, whenever the service sorts out its as-yet unsolved login issues.
If there's anything to take away from the still-unfolding events, it's the following: Friday evening is a terrible time to inform people that their money is inaccessible for withdrawal, especially in between the usual U.S. payday schedule, and during a time of acute financial precarity. Moreover, if a service notifies users that their account may be locked, it's important that each of the several phone numbers mentioned across different support emails do not result in failed calls or busy signals. And, it's going to take more than a corporate tweet stating that accounts are "secure and should not be locked" when, hours after that tweet was sent, people are still experiencing account lock-outs.
Squirrels may store nuts for safe-keeping, and their prolific planting gives them food for the winter.
This story is still developing. The cause and outcome of these issues remains to be seen. How (or if) it affects Acorns' plans to go public, or the more than 4 million subscribers who use the app to grow spare change into something bigger, remains to be seen, but here's a bet: Unlike the forgotten oak nuts, though, platform issues are unlikely to yield Acorns Grow Inc. a new forest.
This user, at least, is looking to squirrel away that cash elsewhere, whenever Acorns lets me dig it out.