Based on a new report by payments giant Mastercard, a majority of consumers are embracing open banking to power their digital finances – providing the green light for third-party tech and financial institutions to partner harmoniously.
According to the report, titled The Rise of Open Banking, more than 80% of consumers in the U.S. – and 90% of "younger" consumers – are already connecting their bank accounts to technology apps.
The survey uncovered that over the past year consumers have increasingly conducted common transactions digitally including sending money to friends, family and businesses, securing or refinancing a loan, and emerging use cases like buying or selling cryptocurrency and crowdfunding.
Over a third of these consumers used this tech for the very first time in 2021.
Critical to driving many, if not all, of these transactions is the ability for consumers to securely link their bank or payment accounts. Nearly 75% of consumers in the U.S. (65% of Canadians) have, or would, consider connecting their bank accounts to financial apps and services to automate financial tasks.
As for what's driving this overwhelming adoption, convenience took the top spot with 59% of consumers in Canada and the U.S. saying fintech saves them time and is less work.
"Open banking gives consumers choice by enabling them to use their own data to obtain financial services solutions quickly, simply and securely," said Chiro Aikat, Mastercard Executive Vice President, Product & Engineering, North America.
Over three-quarters of North Americans are linking their accounts today, especially younger and diverse consumers and most have a "set it and forget" mindset once accounts are linked.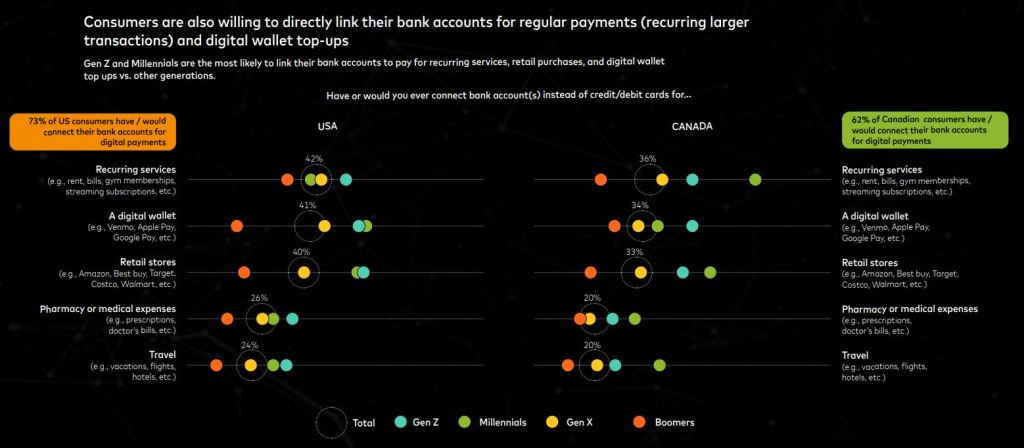 While consumers have increasingly turned to third-party tech for financial transactions, there is still wariness from both consumers and government entities on matters of data privacy around open banking. Though all demographic groups trust credit card companies most, younger generations are notably more open to trusting tech brands, Mastercard pointed out.
In mid-November, financial-technology startup Plaid, alongside a coalition of fintechs and security compliance companies proposed a framework – coined as the Open Finance Data Security Standard (OFDSS) – that establishes 63 individual security requirements across 12 control domains the consortium has deemed as possible security risks when utilizing open banking.
In an interview with FinLedger, Daniel Kahn, Head of Global Open Finance at Plaid, said the company began examining the risk associated with some of the fastest growing fintechs in the ecosystem in late 2019. The OFDSS was the product of this research and desire from the resulting founders to create a compliance strategy for its downstream apps and services.
According to Kahn, the Consumer Financial Protection Bureau (CFPB), The Office of the Comptroller of the Currency (OCC) and the Federal Deposit Insurance Corporation (FDIC) are all in the process of rewriting third party risk management guidelines and have asked for reference standards.
"For too long, individuals and families haven't reaped the same benefits of using their own data. The technology has been too expensive, or the ability to collect all that data and analyze it has been cumbersome," Mastercard said in its report. "This is where the advent of open banking and open finance is flipping the data experience."