Pacaso, a real estate co-ownership marketplace proptech, today released a report on second home market activity, finding a 25% increase in transactions in the second quarter of 2022.
The company says compared to pre-pandemic years, sales in of luxury second homes increased by 235% from the first quarter of 2020, according to a press release. It attributed this increase in home sales, defined as homes sold for $1 million or more that are designated for season or recreational use, to demand for summer-related activities and destinations.
The data highlights this, indicating demand for houses in scenic locations with scope for outdoor activities. Key markets experiencing year-over-year (YoY) increases include Coeur d'Alene, Idaho (51.7%), Williamson County, Tennessee (42.1%) and Kitsap County, Washington (38.6%).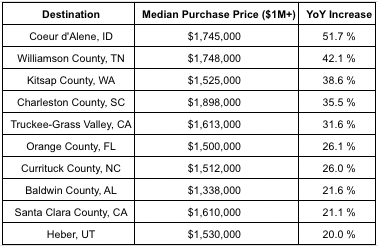 "Despite a rising interest rate environment and growing concerns of a recession, it is clear that demand for this type of asset remains strong," stated Pacaso co-founder and CEO Austin Allison in the release.

Allison added that wealthy customers are often shielded from the effects of recessions and view real estate as a safe place to invest their money and avoid economic volatility. The increase in the value of these houses may slow down in the second quarter of the year, he predicts.
The report includes data Pacaso census data collected from counties with a minimum of five home transactions valued above the top 20th percentile, and excluding the bottom 10th percentile in number of homes. Pacaso used this information alongside mortgage rate locks on second homes and investment properties priced above $1M to determine second home buying activity. It says mortgage rate locks are leading indicators of second home buying activity, with approximately 80% of locks resulting in home purchases.
In other recent proptech news, Zesty.ai announced raising $33 million to expand its climate risk assessments to new industries. WeWork also announced the official debut of its new space management solution, WeWork Workplace, in partnership with Yardi.