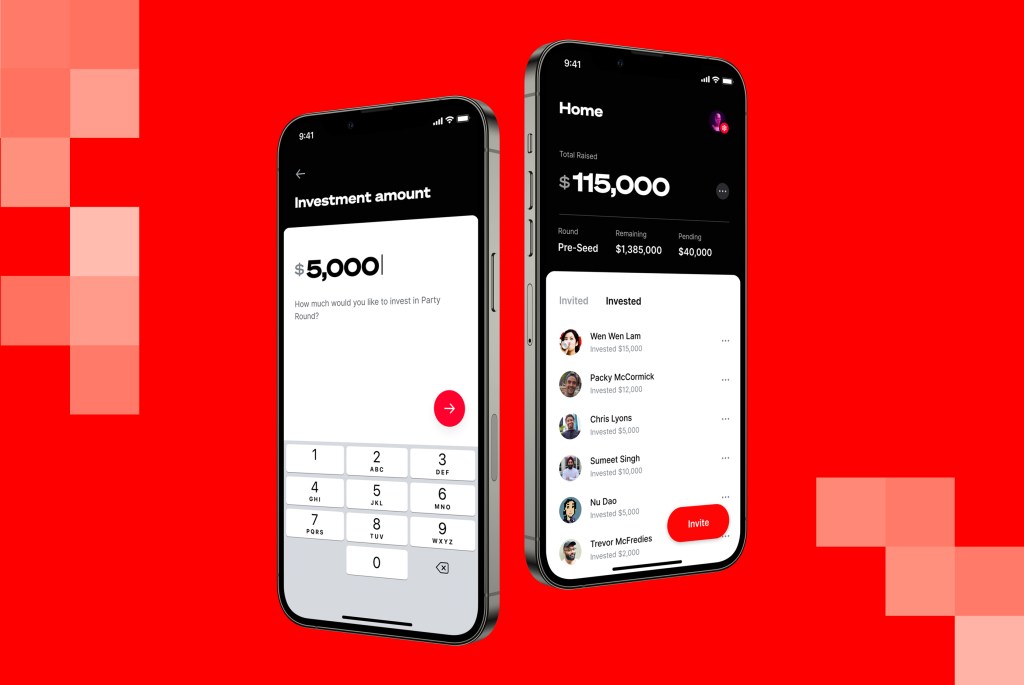 Party Round, the startup that wants to transform "your community into your cap table," announced a $7 million dollar seed round led by a16z on Thursday for its fundraising platform that allows founders to invite friends and colleagues into the capital raising ecosystem.
In a growing market of angel investing, Party Round wants to bring the tools for fundraising straight into the hands of startups. Once approved to join the platform, founders can create a round and privately invite as many friends and investors as they'd like. Following an invitation, investors can review round details and company materials, read and sign documents, and invest instantly. The funds themselves are transferred through a Plaid integration.
Jordi Hays, Party Round's co-founder and CEO, told FinLedger in an interview that the platform was born from conversations surrounding founders' abilities to invest in every asset class. If you could put $10,000 in anything from NFTs, sneakers and trading cards, why couldn't you generate that funding from the friend sitting at your kitchen table? Rather than do it the old fashioned way with PDFs, wire transfers and lawyers, Party Round set out to establish the "Venmo of angel investing."
The best part for founders? The platform is totally free.
"It's not a place to socialize, it's a place to like transact," Hays said. "In the context of party round, we're not a marketplace, so you don't just download the app and start looking at startups to invest in, it really starts from the founder's point of view."
According to Hays, the platform is seeing fundraising for everything from crypto startups to consumer packaged goods. This past summer, the platform invited founders of startups like JuneShine, Popshop, Eco, and Commsor to start using the tech and through the beta, saw over $200k raised per day on the platform.
There are of course standards to enter the platform – a proper Delaware C, KYC compliance and startups with no more than a seed or Series A round. There's also a waitlist the platform is working through daily.
The company has done massive marketing overhauls since its launch, such as Helpful VCs, a series of CryptoPunk-style NFTs (nonfungible tokens) of the top venture capitalists, Burn the Runway, a video game that lets users bankrupt top unicorn companies, and Startup Ipsum, a web app that generates believable tech news stories.
With these online stunts, however, Party Round has bet on a reoccurring theme: it would be way more fun if you quit your big tech job and start a company. In September, Party Round took up a partnership with fintech startup Mainstreet to offer big tech company employees a one-time, "no-strings attached" $50,000 grant to quit and build a startup – without any expectation of receiving equity or repayment of any kind.
The winner went to Lauren Connelly, who quit her job at Facebook to start Lumos, a crypto-focused media company empowering women and people of color through financial freedom.
"Historically, there's a lot of talk about bootstrapping," Hays said. "But the reality is building a company takes money, right? We don't want you to hit a dead end. The friends and family round gets a lot of flack in Silicon Valley, but we are democratizing angel investing."
The model has proven successful thanks to its latest funding (which was of course raised on the Party Round platform) led by Anish Acharya at a16z and Chris Lyons from a16z's Cultural Leadership Fund, with participation from Alexis Ohanian's Seven Seven Six, Abstract Ventures, Shrug Capital, Gradient Ventures, Not Boring Capital and angels like Emilie Choi, Austin Rief, Nu Dao, Nik Sharma and Trevor McFedries.