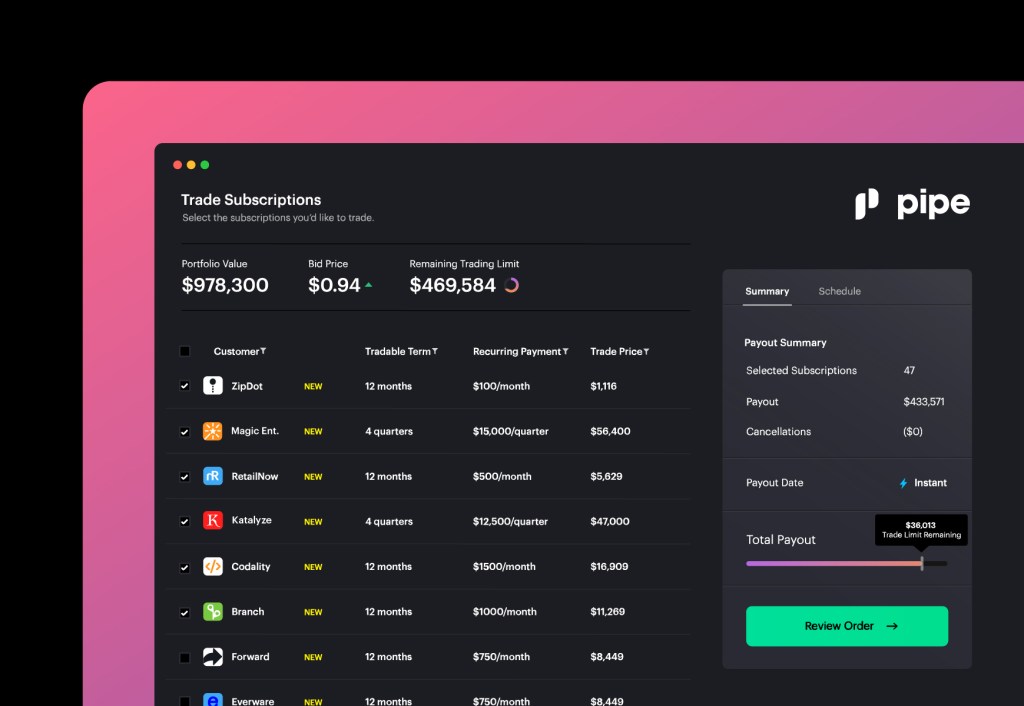 AngelList, a U.S. website for startups, angel investors, and job-seekers looking to work at startups, and Pipe, a fintech that has built a trading platform for recurring revenues, have partnered up to let general partners immediately access management fees.
For a small fee, Pipe and general partners can get up to four years of management fees upfront, with no impact on their fund's payment schedule. Management fees earned by the GP on a quarterly basis are then used to repay the advance they received through Pipe.
AngelList operates a massive number of angel investor profiles, with claims that it had around $1.8 billion in assets under management in 2020. Under its structure, fund managers raise a certain amount of permanent capital, then set up quarterly commitments that roll in automatically.
As Pipe founder and Co-CEO Harry Hurst put it, "These are not the Sequoias of the world."
"These aren't mega funds but they are still meaningful. Instead of having 20 or 30 general partners, maybe you just have two. But with AngelList, it is enabling these smaller GPs to be able to run their own funds. That's where Pipe comes in. We have that same kind of mission to democratize access to capital money, and these GPs need access to cash flow," Hurst said.
Pipes' business model enables people to access capital markets via its trading platform that opens up to upfront value of multi-year or annual value of recurring revenue streams.
Management fees, however, typically take up around 2% of assets under management. For example, with a $10 million fund, the GPs are charging $200,000 a year in management fees. So that $200,000 a year, they're able to trade for the multi year value.
Under the new partnerships, Pipe is now able to offer up to four years of those management fees. So in our above example, they could get access to up to $800,000 today.
"So they're trading the recurring management fee for the upfront value today, but remember, it's not a loan," Hurst explained. "They're actually trading that contract that they have between them, the GP, and their LPs on the pipe platform."
According to Hurst, the companies have been beta testing it on the platform pre-Wednesday's announcement and have already seen GPs turn money quickly in to other revenue streams like SaaS companies, marketplace businesses, crypto avenues and other types of deals that may not fit their typical fund portfolio.
"They're not personally cash rich, but they have this very predictable revenue stream – recurring revenue stream – that they know contractually, is coming to them over the coming X amount of years from their fund," Hurst said. "And now, they can use Pipe to get an advance on that. They can use that money to make these asymmetric bets on all the deal flows that perhaps isn't a fit for their funds thesis to make personal investments."
Hurst told FinLedger he hopes with this latest partnership it will raise awareness around "solo capitalists" and the ability for these budding investors to operationalize their businesses with the latest tools and services that were originally reserved for larger funds. The CEO said he sees an entire ecosystem developing around these smaller pools of capital and smaller operators – a trickle down effect that is a massive net positive for all the investing activity that's going on in the startup ecosystem that these operators actually support.
"That's the whole point of this whole thing," Hurst said. "There's no point in just raising money and raising funds. It's all about what the builders are doing with the money that's being invested in to them."