In a move that is in line with its previously announced strategy of acquiring more companies, construction tech unicorn Procore Technologies announced Tuesday morning that it has bought Esticom.
Austin-based Esticom has developed cloud-based estimating and takeoff software focused on preconstruction. Founded in 2015 by former contractors Chris Lee and Rob Hock, the company has never raised outside capital.
Procore said the acquisition will add "powerful estimating functionality" to its platform, complementing its preconstruction offering by "enabling greater accuracy in cost estimates, helping general contractors and specialty contractors win more bids, increasing productivity, and reducing risk throughout the lifecycle of a project."
Procore CEO Tooey Courtemanche told FinLedger via email that his company has made a strategic decision to invest in the future of preconstruction.
"The acquisition of Esticom takes us one step closer to complete coverage of an increasingly impactful phase of the construction process," he said.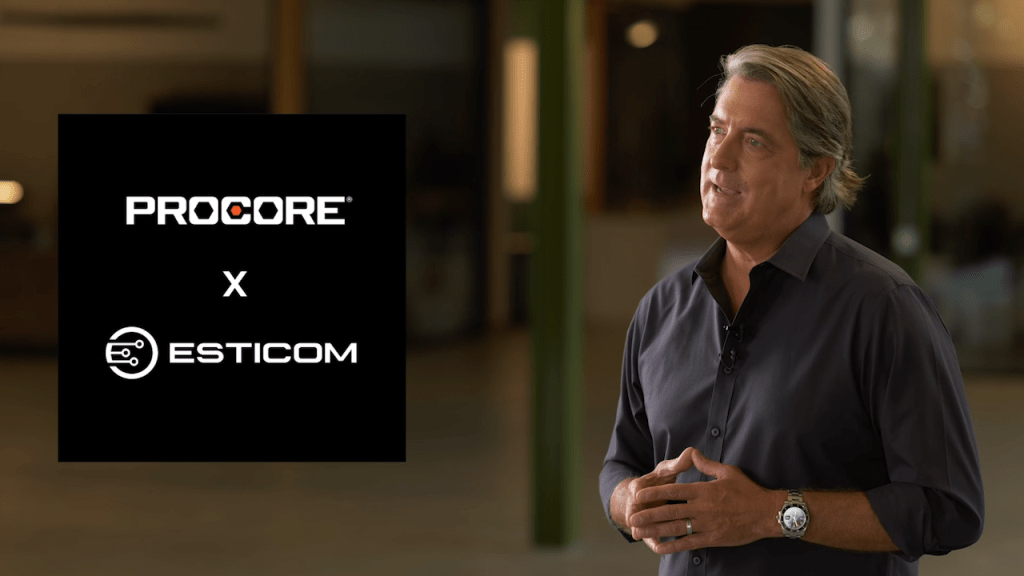 Procore's mission is to connect everyone in construction on a global platform, Courtemanche added.
"We want to ensure that the entire project team can start and finish their work in the Procore platform," he said. "Construction projects start long before the first shovel hits the ground, and connecting everyone is not only about people, it's also about connecting processes and workflows."
During preconstruction, project planning takes place to define the project details, identify potential issues, finalize designs and drawings, define project budget, scope and schedule. Esticom aims to help the construction industry streamline the traditionally "cumbersome" process of takeoff and estimation. It does this by giving contractors a way to quickly determine the quantities of materials needed on a job using project drawings and specifications, and then calculating labor and material cost estimates using a built in catalogue of materials and assemblies.
The term takeoff is the process of quantifying material items for a project, according to Esticom co-founder Lee.
"For example, you can use our product to measure the square footage of floors going into an office space or concrete in a parking lot, or to count the number of electrical outlets and linear footage or wire," he told FinLedger.
Contractors who use Esticom typically see a three-fold increase in the number of construction projects they can estimate, and a five-fold increase in takeoff speed, according to Lee.
"Esticom is modernizing preconstruction by replacing paper plans and spreadsheets, and delivering more accurate estimates," he said.
Lee said Esticom was not looking to be acquired and had in fact been approached by "multiple large players in the space" over the years and "did not entertain the conversation."
"But after partnering with Procore in 2019, it became apparent that we had some undeniable synergies from a product and vision standpoint and that by joining we could move our ultimate goal of connecting preconstruction and construction into a single product forward [by] five to 10 years," he told FinLedger.
Looking ahead
With the acquisition, Procore and Esticom will offer a single, "comprehensive" preconstruction solution on the Procore platform "with data connectivity that helps customers track costs and accurately predict estimates," according to Courtemanche.
Procore plans to fully integrate Esticom into the Procore platform in 2021. In the interim, Esticom will remain a partner on the Procore App Marketplace, with an existing integration where estimates can be exported directly to generate a project budget within Procore. Current Esticom users will continue to be supported as usual, and the product is available for purchase through Esticom
Earlier this year, Southern California-based Procore put off its plans to go public in favor of raising $150 million at a $5 billion valuation. The purchase of Esticom marks the company's fifth acquisition since September 2018, according to Crunchbase. Its largest known acquisition to date was the $161.6 million purchase of Honest Buildings, a data-driven project management and procurement platform for real estate owners.