Amid a year of overheated home prices and buyers scrambling for any inventory the market managed to produce, real estate investors showed few signs of slowing down in 2021, according to new data from RealtyTrac.
Nationally, the share of investor purchases among all home sales increased year over year by just over 40% in the third quarter of 2021, based on ATTOM data of single-family home sales purchased by investors as both fix-and-flip properties and long-term rentals.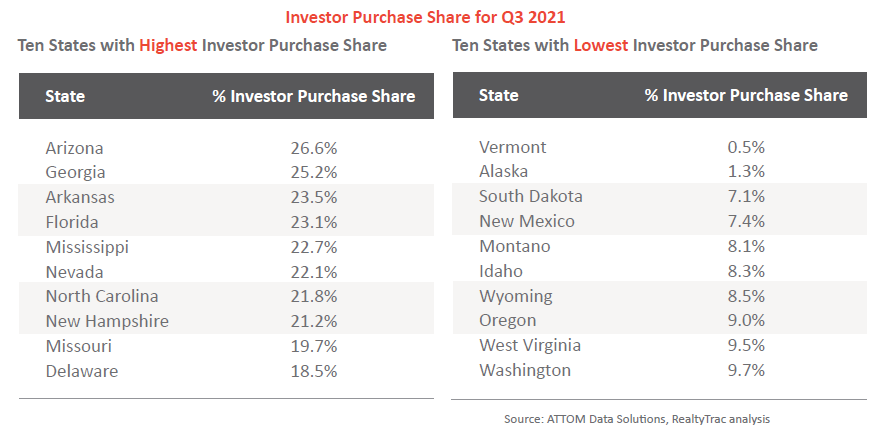 All but five states saw increases in the percent of investor purchases from Q3 2020 to Q3 2021, with Alaska, Delaware, Iowa, Nebraska and Vermont as the only states to reflect a decline during that period.
The median price paid by investors across the country was also 18.9% less than the overall median home sale price in Q3 2021, a likely result of investors willing to pay rock-bottom prices to guarantee a greater profit at the turnaround.
Investors paid a median purchase price of $245,000, compared to a median price of $302,000 for all home purchases, RealtyTrac found. This average price discount is significantly lower than the discount in Q2 2021 when investors paid an average of 29.4% less.
The states with the highest average price discounts for investor properties as of Q3 2021 include Arkansas, West Virginia, Michigan, Louisiana and Delaware.
Investors also continued to pay with cash in a majority of these cases. Roughly 79% of all investor purchases were cash sales in Q3 compared with 69.5% in Q3 2020, a year-over-year increase of 9.5 percentage points. Cash purchases accounted for more than 50% of all investor purchases in every state, other than Alaska, Wyoming and the District of Columbia.
Rick Sharga, executive vice president of RealtyTrac, noted as mortgage rates rise, investors benefit even more by being able to execute all-cash purchases.
Despite investors proving resilient through a hot housing market, potential buyers that have found themselves sidelined by bidding wars and iBuying models are pointing to investors as the culprits of eating up the affordable stock.
A similar Q3 data study by Redfin revealed investors made up 18% of home sales during the same timespan, an 11% increase from the year prior. Their target being mainly single-family rentals that falls in line with the build-to-rent phenomenon many buyers are witnessing.
"Rising home prices and inflation make it difficult for investors to achieve their ROI objectives, but they make it even harder for the average consumer to afford to buy a property," said Sharga.
"So even though investor profit margins may be declining, it's possible that we'll continue to see the investor share of purchases increase over the next few quarters," Sharga added.