Well, it looks like crypto is finally looking past artistic chimps and is starting to look at physical real estate assets. Today, UK-based Realbox announced launching one of the world's first blockchain-based real estate tokenization platforms, according to a press release.
The blockchain-based platform enables real estate ownership to be subdivided via tokenization, and gives retail investors the opportunity to share ownership in global real estate investments.
Users are able to purchase these fractionalized real estate non-fungible tokens (NFTs), called REB NFT on the platform, for as little as $100 on the platform, according to the release. By owning these tokens, and the smart contracts integrated within them, retail investors are eligible to receive shares of the asset's net rental income.
Realbox says the platform offers a number of advantages over tradition real estate dealings, including increased liquidity and transparency, enhanced security, and simplified management.
The company intends to leverage the platform to create a larger "tokenized real estate" ecosystem, and accelerate the integration of blockchain technology in real estate development and fund management. Through this, it intends to capture real estate capital growth and rental income, and move into securing other valuable assets that can be tokenized.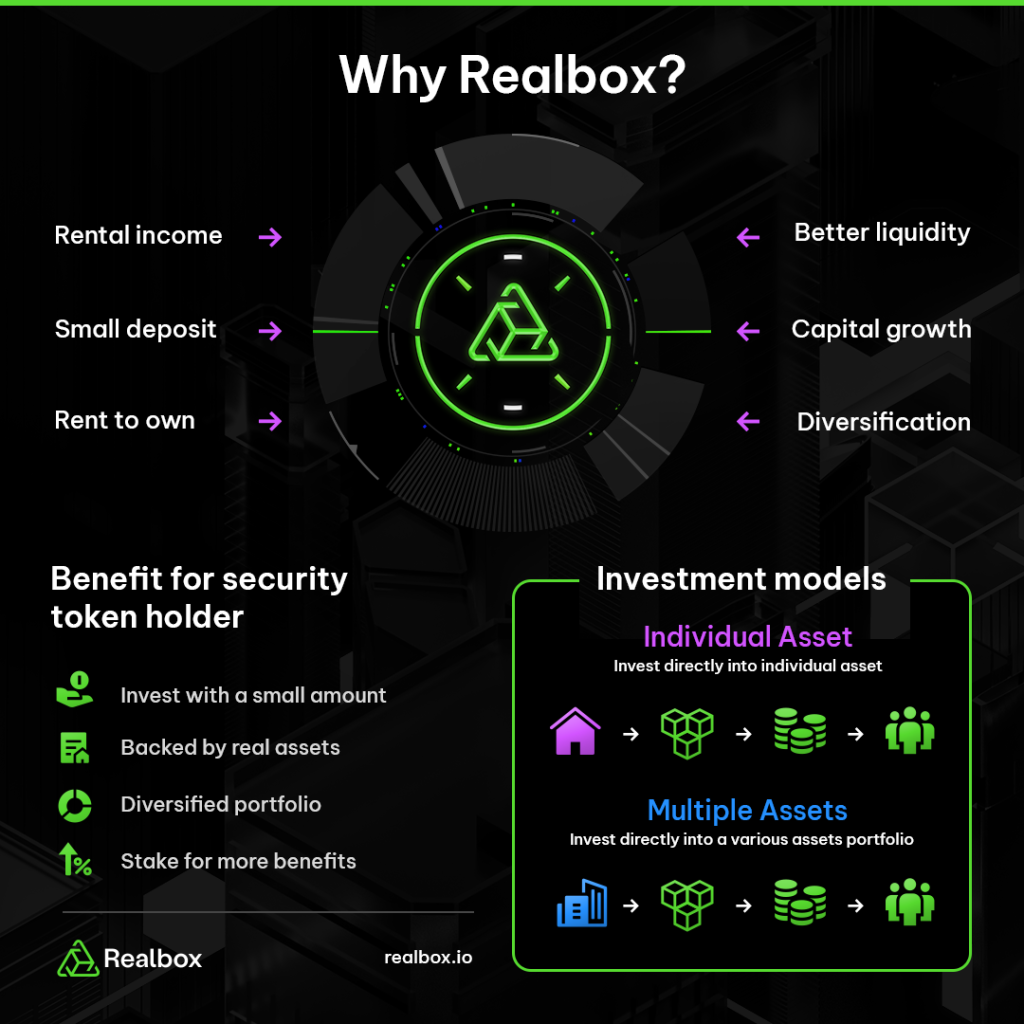 In addition to real estate assets in the physical world (some youngins may call it IRL), Realbox also offers a real estate metaverse offering for creating, buying and selling virtual property, a marketplace for trading these asset-backed tokens, a robo-advisor investing product, and asset and investment management services.
At its base the Realbox ecosystem is operated through governance tokens (REB), the platform's native utility token. These tokens are used to pay for service fees within the ecosystem, including listing, subscription, transaction, borrowing fees and dividend payment.
By increasing assets under management over time, token holders are also able to receive discounts for purchasing security tokens and profits from staking tokens.
These security tokens are what actually entitle holders to a share of profits from properties, and give the holder the right to receive monthly rental income reports.
While this looks like the first step in actually creating this ecosystem, tokenizing property assets into tokens seems like the next logical step for the market. As property continues to flow into the hands of a few, a platform like this could be the missing link for those who don't have the funds to buy a house, but want to invest in property.
In other recent proptech news, commercial EV charging startup Xeal hired industry veteran Eric Roseman as CRO. PlanRadar also announced a $69 million Series B for expansion of its digital construction platform.