Trust & Will, an online estate planning platform, has raised a $15 million Series B round of funding.
With the latest capital infusion, San Diego-based Trust & Will has raised more than $23 million since its October 2017 inception.
Since announcing its $6 million Series A last December, the company has tripled its member base to 160,000 and its headcount to 24, according to co-founder and CEO Cody Barbo. The company also has tripled its revenue, although it does not disclose exact numbers. (Incidentally, all three co-founders also became dads this year – something the company believes is relevant to the audience it's targeting).
"It's odd for a few non-attorney founders to be building an estate planning company – and don't worry, we have a best in class Trusts & Estates attorney on staff – but for me it boils down to family," Barbo said.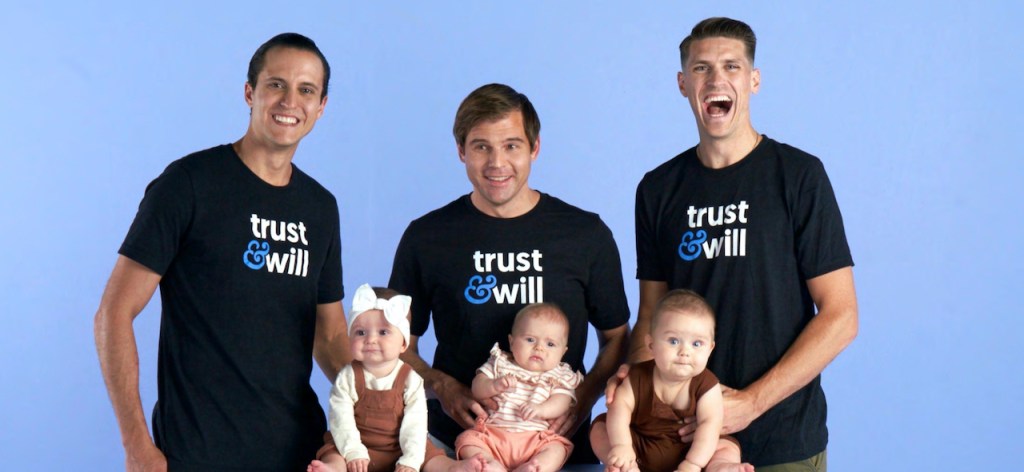 Estate planning is an annual $22 billion-plus industry, according to Barbo, who says that half of all adults in the U.S. have no will. This includes an estimated 45 million parents with minor children.
Barbo and co-founders Daniel Goldstein and Brian Lamb started Trust & Will to turn the "antiquated, time-consuming, and often too expensive" process of estate planning on its head.
"The easy way to think about Trust & Will is the TurboTax for estate planning," Barbo said. "As TurboTax has become the default option for tens of millions of Americans and how they file taxes, we are building the same foundation for tens of millions of American families to protect their legacy."
Jackson Square Ventures led the Series B financing, which also included participation from a slew of other new investors including Northwestern Mutual Future Ventures, AARP, Rosecliff Ventures, Fifth Third Capital Holdings, Acorns CEO Noah Kerner & Jeff Cruttenden, co-founder of Say and Acorns. Returning backers Revolution's Rise of the Rest Seed Fund, Link Ventures, Halogen Ventures, Western Technology Investment and Techstars Ventures (among others) also participated in the round.
Partnerships & looking ahead
The COVID-19 pandemic has been a tailwind for the company. In an attempt to give back, the company provided a free will-based estate plan to over 11,000 healthcare professionals earlier this year. It's also offering the same deal for teachers.
"We saw unprecedented growth in late March through early May as the pandemic first unfolded," Barbo told FinLedger. "Being a software-driven business [a SaaS operator], we are designed to scale with little effort, outside of growing our Member Success team."
Since launching its first product in 2018, Trust & Will has forged partnerships and strategic relationships with a number of institutions including Fifth Third Bank (also an investor), AARP (also an investor), Mint.com, Acorns, Haven Life Insurance and Girl Scouts of the USA.
As part of its partnership with Notarize, a pioneer in virtual notary adoption, Trust & Will completed the first electronic Will (e-Will) in Florida history a few months ago. It also completed the first eWill in U.S. history in Nevada in 2019. in Nevada and Florida.
"We expect many more states to adopt an end-to-end digital estate planning experience," Barbo told FinLedger. "It creates a more inclusive legal experience for all, while practicing social distancing via digital execution of the documents."
How it works
Trust & Will currently offers three products – at varying price points and option subscription plans – including a trust-based estate plan, a will-based estate plan and a guardian plan for parents with minor children who aren't ready to create a complete will. It promises to give people a way to create and certify an estate plan in minutes instead of days — and from their computer.
For a fee, the company also offers attorney support in several states. It also has a product for financial advisors and wealth managers to onboard their clients into its platform. It currently services over 1,000 advisors.
Its customers span a range of demographics, but its two sweet spots are 30 to 55 year olds that are married with minor children, homeowners and first time estate planning makers and those over 55 who are either first-time estate planning makers, updating their outdated estate plan, or assisting an elderly family member with their own estate plan.
Trust & Will plans to use its new capital to "aggressively" expand its sales and marketing efforts as well as "broaden and accelerate" its product development. The company also recently hired former General Assembly CFO John Zdanowski to the role of CFO for Trust & Will.
"We'll be likely doubling headcount over the next year, and are opening all opportunities to remote team members," Barbo said.
Investor POV
Victor Echevarria, partner at lead investor Jackson Square Ventures, told FinLedger that improving the financial health and security of the general populace has been a passion of his "long before" he became a venture investor.
"Families often fall into these gaping sinkholes of financial hardship that could easily have been avoided with proper planning," he said.
Fifteen years ago, the opportunity was in retirement savings, when 60% of families failed to save for the long term, Echevarria noted.
"Today, a similar number lacks any kind of formal estate plan. For a young family, something as simple as a guardianship should be table stakes. And the difference between having a living trust or not can be thousands of dollars in legal fees and months of probate," he said. "Estate plans should be ubiquitous. But to create a new paradigm requires absolutely exceptional execution from an incredible team."
The big vision for the company, though, is Trust & Will's potential to be its customers' long-term estate management "partner."
"You wouldn't open an IRA and then forget it exists, so why should you create a living trust and shove it in a file cabinet, never to be seen again? Families evolve, assets accumulate, and estates need disbursement," Echevarria said. "We aren't merely a document peddler. Trust & Will wants to be a long term partner with the people who entrust their estate plans to us."