Last week, multiple news outlets reported that Goldman Sachs was potentially raising a $2 billion venture and growth fund.
If accurate, the closure of such a raise "would make it a bigger player in the competitive world of technology investing," according to Bloomberg, which cited sources claiming knowledge of the matter.
True to form, Goldman Sachs is keeping mum on its plans. But we thought it would still be fun to take a look at just how much venture investing the global investment banking firm has done in recent years. We also took a closer look at its investments in the fintech/financial services/finance space. Spoiler alert: It's significantly ramping up both.
Anecdotally, over the past year or so, I've noticed an uptick in the number of fundings that were either led by, or included participation from, Goldman Sachs.
So I asked my old friends at Crunchbase (where I used to work) to do some digging in the company's database. And what they found was exactly what I expected: Goldman Sachs's pace of investing in startups has increased dramatically over the last couple of years. In fact, the company invested in a record-high 23 startups in the fourth quarter of 2019, according to Crunchbase.
You can see for yourself in this lovely chart Crunchbase produced below: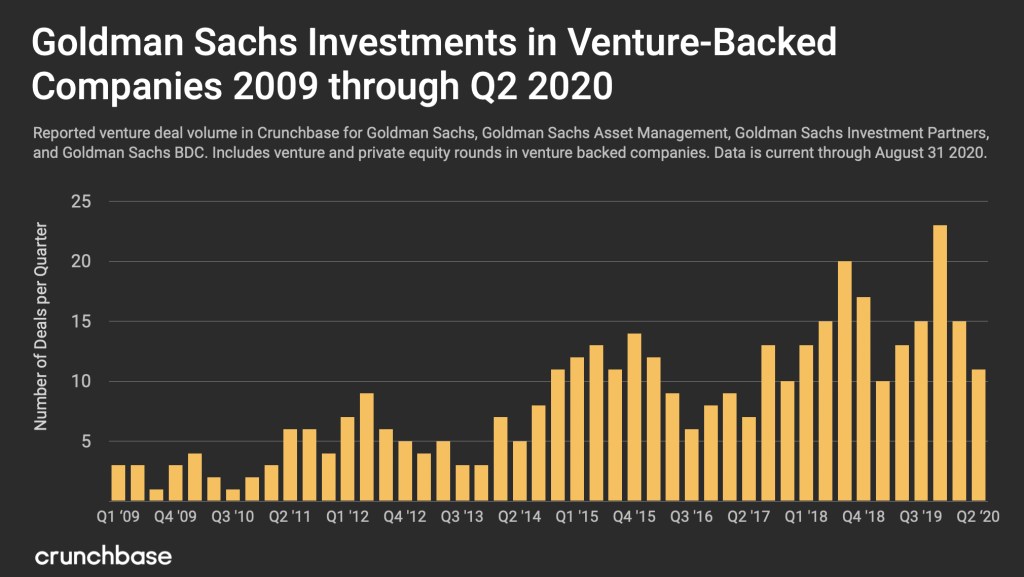 It seems the COVID-19 pandemic has slowed its pace down some, but not by much. Crunchbase data shows that Goldman Sachs has invested in 6 companies so far in the third quarter of 2020. It backed 11 companies in Q2, and 15 in Q1.
So far, that's a total of 32 venture investments this year so far. That's only slightly below the 38 investments it made in the first three quarters of 2019 (and we still have two months to go in this third quarter).
Overall, in 2019, Goldman Sachs backed 61 companies, according to Crunchbase data. For context, that's sharply higher than (and nearly double) the 31 companies Goldman put money into just five years prior (in 2014). It's also significantly higher than the 10 it invested in a decade prior (2009).
Fintech focus
Over the years, Goldman has backed some of the biggest players in the fintech world today, including two that went on to big exits: Plaid (which Visa announced earlier this year it would acquire for $5.3 billion) and Square (which went public at a $2.9 billion valuation in 2015).
And of course, since financial services is our thing, I asked myself – where is Goldman putting its money to work these days and how much of that is fintech-related?
Again, our friends at Crunchbase came through with a chart illustrating how much the firm's fintech focus has increased in recent years. Take a look below:
Its pace of investing in financial services venture-backed companies has skyrocketed since 2017 – tripling from just 3 that year to 9 in 2018. In 2019, Goldman invested in 15 fintech-related startups. In the first half of 2020, it backed 7 companies in the space, according to Crunchbase data.
Recent investments
Some of Goldman's recent fintech-related deals include investing in Bond Financial Technologies (which closed a $32 million Series A in July) and online mortgage lender Better.com.
San Francisco-based Bond Financial Technologies describes itself as "the first" enterprise-grade, compliance-focused technology platform to connect digital brands with sponsor banks. It claims to allow banks to distribute financial products via brand partners "in a more automated and compliant way," according to Bond CEO and co-founder Roy Ng.
Goldman Sachs launched programs with a number of brand partners including Apple (Apple Card) and JetBlue (MarcusPay), so it has "learned a lot about launching with new brand partners at scale," Ng told FinLedger.
"As a Goldman Sachs alum myself, I also value the firm's vast internal and external resources with deep expertise in the areas we are building out our market leading platform," he wrote via email.
The company is using its new capital to hire and accelerate its product launch.
"There is a pressing need in the market – from both sponsor banks and brands," Ng said.
In February, Goldman Sachs led a $120 million Series E round for Flywire, a Boston-based payments company that has also built software to help process payments (which makes it both a SaaS operator and a transactions platform.) Flywire's focus is on the education, health care and travel industry verticals.
At the time of Flywire's raise, Ashwin Gupta, managing director at Goldman Sachs' merchant banking division, said of the new unicorn: "They bring together a unique blend of a payments network, platform and vertical-specific solutions to completely digitize the payments experience for their clients across industries. We look forward to continuing to help accelerate Flywire's growth."
Last year, Better.com CEO and founder Vishal Garg told me (while I was a reporter at Crunchbase News) that the firm has helped his company create a profitable revenue stream that also allows it to deliver "the most affordable rates to our customers."
Goldman Sachs has also helped in "all aspects" of Better.com's growth and business strategy, he added, from building out its B2B platform and helping build trust and credibility with its customers.
Other fintechs in Goldman Sachs' portfolio include Carta, Even and nanopay, according to its website. (In June 2019, a number of investing groups across the firm – Goldman Sachs Growth Equity, Principal Strategic Investments, and Private Capital Investing – combined to form the GS Growth team.)
If Goldman does raise $2 billion to invest primarily in tech startups, I believe we should expect to see more fintech deals like the ones mentioned above. And you can bet we'll be paying attention.