The number of female founders at fintechs globally remains low at 7% while the amount of funding has risen slightly from venture capital firms and support from incubators.
The founders of fintechs are still overwhelmingly men, but the number of fintechs founded or co-founded by women has increased since the beginning of the decade, according to Deloitte blog post written by Alaina Sparks, managing director of Deloitte Services and leads both Deloitte's U.S. fintech practice and its global financial services ecosystem and alliances program and Jim Eckenrode, managing director of the Deloitte Center for Financial Services.
By 2019, there were 369 fintechs with female founders or co-founders, an eight-fold increase while the number of male-founded startups grew seven-fold.
Compared to the overall startup ecosystem, fintechs with women founders now consist of 12.2% compared to 10.9% a decade ago, the report said. Deloitte analyzed 3,017 global fintech startups.
"This is limited progress indeed," wrote Spark and Eckenrode.
Startups with all-women founding teams accounted for 3.1% of the pool in 2019, a small improvement from 2.4% in 2010.
Funding from VCs inadequate
Female entrepreneurs still lack adequate funding, the right network and mentorship, said Jenn Byrne, co-founder and president of Quesnay, a New York-based company that helps companies accelerate innovation by running innovation competitions, customized acceleration programs and idea-a-thons.
Even in 2020, 65% of venture capital firms have no female partners and only 1% of capital goes to female founders, she said. Some improvements have been made, but they remain incremental. Large and well-known VCs such as Andreessen Horowitz (a16z), Sequoia Capital and Lightspeed Venture Partners have added female partners.
"There is more awareness and limited partnerships are starting to examine where their capital is going," Byrne said. "If women can't write the checks, they can't advance the ball."
The amount of funding for female-founded fintechs has increased – in the past five years, funding increased at a compound annual growth rate of 58.9%, while funding for male-founded fintechs rose by 29.1%, according to the Deloitte report.
But fintechs founded by women remain behind the curve in other avenues. More female entrepreneurs need to be paired with both male and female mentors to be more inclusive, Byrne said.
"Women should not be siloed," she said. "Women helping women mentorship programs will not drive progress," she said.
Deloitte's study analyzed 36 VC firms that have a mandate to invest in female founders – 40% of the 371 women-founded and co-founded startups received funding. At those startups, 27% had female founders.
But funding remains inequitable and the majority of investors are still basing their decisions on gender. Over the past five years female-founded fintechs received 50% less in capital compared to startups founded by men, according to Deloitte's research. When the fintechs had both a female and male founder, the disparity in funding was only 3% less.
Signs of improvements for female-led startups
The number of mentorship programs, peer-to-peer networks and sponsorship has risen and have helped women gain access to more capital, allowing them to operate more successful fintechs.
Laura Spiekerman, co-founder of Alloy, a New York-based software company for banks and fintechs, helped the startup raise $40 million in series B funding during the coronavirus pandemic. FinLedger reported in September that Canapi Ventures led the round along with vid Ventures and Felicis Ventures, as well as existing investors Bessemer Ventures, Primary Venture Partners, and Eniac Ventures. The money was raised via several Zoom meetings.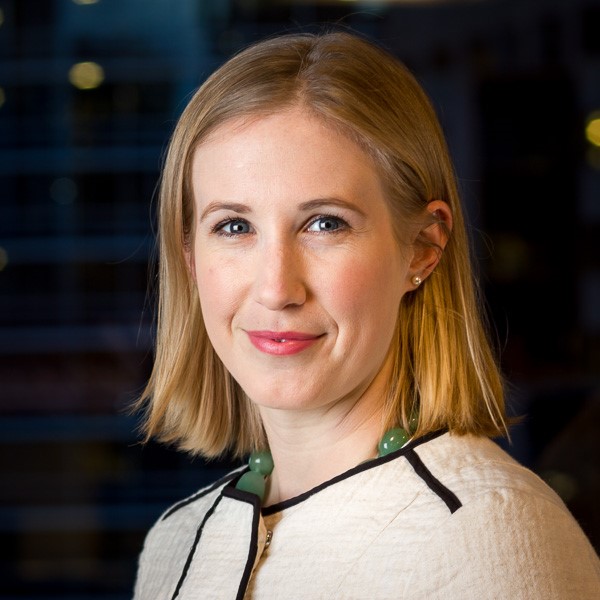 Since Alloy's two other co-founders are white males, Spiekerman said she considers herself fortunate because she receives less scrutiny from VCs compared to solo female founders or full female-led teams.
"Particularly in tech and even more so in fintech, there's the dynamic of being the 'token female' in the room, which can lead to some great opportunities but also be an exhausting role to be put in," she said.
Female founders face a number of other obstacles and one of them is the expectation of being a champion of gender equality, but that results in creating more work for women.
"If women are perceived as less worthy of respect, it's easy to assume that these messages would be drowned out or taken less seriously than if they were to come from a man," Spiekerman said. "Men are often (but not always) the culprits of sexism and should be playing a much larger role in rectifying the situation, both through their own behavior and in being the loudest voices in the room pushing for equality."
VCs can be part of the solutions by expanding their scope when they are looking for companies to invest in.
"This could be anything from reaching out to mentorship programs, connecting with public sector business development groups or finding out from local non-profits who are the start-ups renting cheap space on the same block," said Chao Cheng-Shorland, co-founder and CEO of ShelterZoom, a New York-based blockchain-based software company that creates and stores documents and contracts.
Networking was crucial for ShelterZoom. The startup was able to get the attention of investors by building connections with business development groups within both private and public sectors, she said.
"They not only introduced us to investors but also organizations who can use our product," Cheng-Shorland said. "It has proved invaluable to our early success.
A number of VCs have revamped their strategy and are "thinking more broadly and taking a closer look at pitches that don't come in the door through traditional channels," she said.
"They have also started to realize the value in niche fintech products that are providing a higher rate of profit," Cheng-Shorland said. "KPMG found that in the UK female-led fintechs saw 113% higher profits compared to male-led firms, which is helping turn the tide.
VCs still have a long way toward achieving gender equality and more investors need to take the extra step in reaching out to less visible entrepreneurs who don't have access to their network.
Even investment banks can no longer ignore the problem and some are addressing it by investing directly in female-led startups and while others are taking a passive approach by providing greater access to capital.
Goldman Sachs' Launch with GS initiative plans to invest $500 million in gender-diverse companies and investment managers. Another investment bank, JPMorgan Chase, which has partnered with The Vinetta Project, launched an initiative to support female founders by helping them with greater access to capital, networking opportunities and advisory services.
Nassau Re/Imagine, an incubator, is funded by the Nassau Financial Group to help female fintech founders by making introductions to investors, providing free office space, helping with marketing and event support and hosting podcasts with female founders. It has worked with ClaimSpace, an Australian claims filing startup that received a $1 million seed investment for its U.S. operations and Udotest, which was founded by CEO Allison Martin, and provides numerous in-home diagnostic tests to avoid visiting the doctor.
"We curate opportunities that bring together investors with insurtechs," said Laura Dinan Haber, innovation program manager at Nassau Financial Group in Hartford, Conn. "When a trusted source makes an introduction, we find that meetings are taken and progress is made. Raising capital is difficult, being female should not make it harder."