XY Sense, an occupancy sensor and analytics proptech for corporate real estate teams, today announced raising an $8 million Pre-Series A funding round led by InterValley Ventures, according to a press release shared with FinLedger.
The company says it will use the funds to deliver on "rapidly increasing international demand" and to roll out its sensor technology in workplaces worldwide, including the U.S.
The pre-Series A also included participation from JCI Ventures, Johnson Controls' corporate venture arm, and returning investor Blackbird. The company also announced securing $2 million in venture debt financing from OneVentures for inventory purchases in order to meet demand.
XY Sense says this debt financing was an attractive funding companion to the Pre-Series A, as it "enabled XY Sense to gain access to addition funds while not diluting equity", adding that it ensured the company can secure stock and complete orders despite ongoing global supply chain issues.
Launched in 2020 and based in Melbourne, Australia, XY Sense provides sensor hardware and AI-enabled analytics software to monitor, analyze and optimize commercial real estate portfolios. It says through its Area Sensor and Workplace Analytics platform, companies can capture real-time, accurate office occupancy and people movement data in order to drive workplace insights and space recommendations.
The company says it has experienced rapid growth and enterprise customer adoption post-COVID, claiming a 300% increase in revenue following global rollouts of its sensor technology and doubling of annual revenue as of June 30.
The proptech says its technology is now used in over 14 countries around the globe, and named CBRE, Xero, Mirvac and Fidelity International as customers.
"We're extremely proud to already be partnering with some of the world's most forward thinking organizations to give them the insights they need to make the best space planning decisions for both their businesses and their people," stated Alex Birch, XY Sense co-founder and CEO, in the release.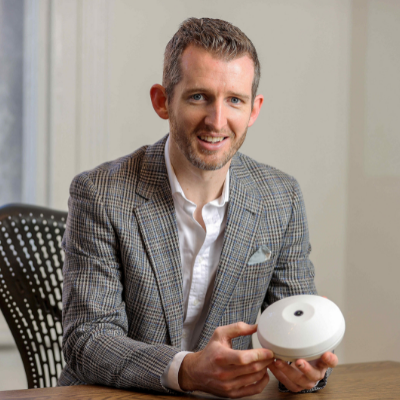 "This funding from an incredible set of new, strategic and returning investor partners will enable us to build on our early momentum and meet global demand faster, and continue to invest heavily in our market-leading sensor technology," Birch said.
XY Sense added that its technology is engineered to be private and secure, "capturing only 100% anonymous data", and says that it maximizes coverage while using 50% to 75% fewer sensors compared to competitors.
The company says this "minimizes roll-out costs and strengthens sustainability ratings for workplace teams without compromising accuracy or depth of data." It says clients across its global portfolio have seen rapidly increasing energy costs, highlighting the need for workplace analytics.
"We couldn't roll XY Sense's solution out across our global portfolio fast enough. We're now getting the actionable, real-time insights we need to make informed space decisions with confidence in a rapidly changing environment," said Joel Oldridge, Executive General Manager of Workplace Experience at Xero.
In addition to its existing core offerings, XY Sense also recently released a new hardware offering, Entry Sensor, to complement its Area Sensor with accurate counts of people entering and leaving spaces.
In other recent proptech news, tax consulting firm Ryan announced the acquisition of property tax management firm Paradigm Tax Group. IUC and Lincoln Property also partnered to install over 6,000 EV chargers in Florida.